Going for growth in service of their community
The Community of St Luke is a progressive Presbyterian church that has fantastic community facilities on the border of Remuera and Newmarket in Auckland, New Zealand. Their spaces range from one of Auckland's most beautiful church venues, to multipurpose seminar rooms, a community lounge and private counselling rooms.
The kaupapa (purpose) of St Luke's is to offer our local and wider community opportunities to belong and for meaningful participation. When SpacetoCo first started talking to St Luke's we were captivated by the space and facilities that they offered . We were impressed by their commitment to serving their local community with accessible and affordable rooms. However, the team were keen to expand their impact in the Newmarket and Remuera areas and knew that they had plenty of capacity in their spaces to go for growth. In the words of Colin Rose, the Community Director, they wanted a '21st century booking system and processes' so that they could unlock the following priorities:
Goals & Aims
Increase the utilisation of the spaces

Diversify their bookings and get new groups, businesses and individuals making bookings

Future-proof the bookings process to enable scalable growth without increasing dependency on staff
When we started working with St Luke's in 2019, SpacetoCo was exploring how we could grow our community spaces marketplace and bookings automation software to support spaces in New Zealand. Elle, our NZ Managing Director had felt first hand how hard it was to find and book community spaces and wanted to prove the hypothesis that a sharing economy solution could be the silver bullet to matchmake community users with local space. Elle was impressed by St Luke's vision for their space, and their willingness to take a risk and pioneer a new idea. Together we have created a Partnership in Community and it's been a joy to learn and grow together and prove that the idea and technology can deliver the outcomes St Luke's desired and deserves.
In their first 8 months, the team at St Luke's have achieved the following.
Growth in casual bookings through enabling online availability & bookings

Diversification of bookings from new businesses and community groups

A reduction in staff time needed to process payments
This case study explains our journey to achieve St Luke's vision, the hurdles we faced and how we worked together.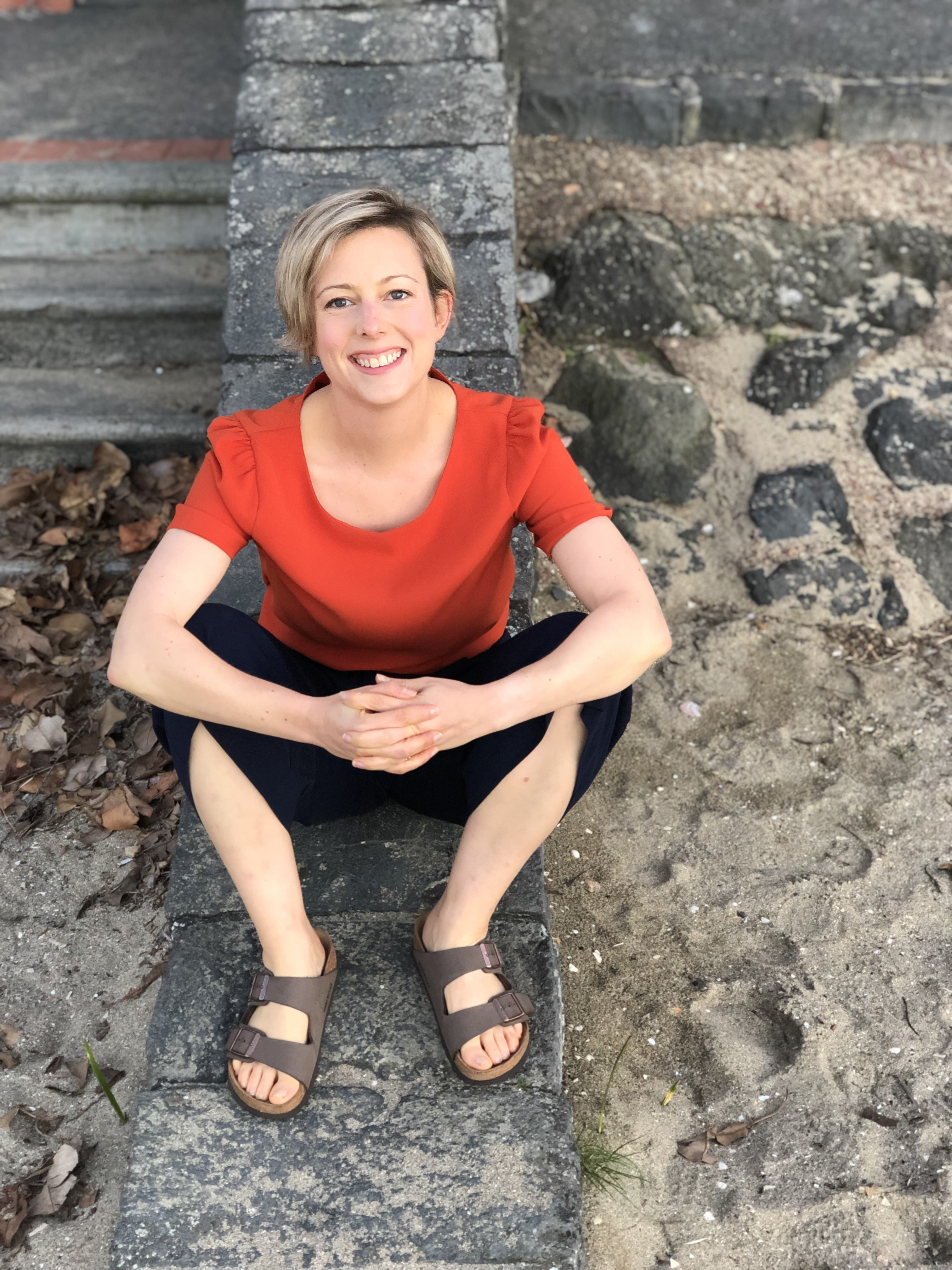 Elle, Managing Director SpacetoCo New Zealand
"I will always remember the first time I met Colin and saw the spaces at St Lukes. A few days previously, I was looking for community spaces to pitch my big idea to - a marketplace that could help both people booking community spaces, and improve processes for the admin staff who manage the spaces. I'd sent Colin a cold email, not really expecting a response, but almost immediately he sent me an invite to catch up.
The first thing you notice at St Luke's is the warmth and welcoming atmosphere of the staff and the space. It has a cozy lounge open to all, Pamela has a big smile and a happy 'hello' for all who enter and the space is always buzzing with lots of different people.
Cup of tea in hand, and welcomed into the wood panelled community office, Colin told me that my timing had been fortuitous! The parish council had made finding an online booking system a priority. He told me they were keen to explore how they could make it easier for more people to use the space, but also to decouple the bookings and availability information from being dependent on just Pamela.
As I heard more about the challenges they were facing, but also their big vision to open up the church to be a diverse music venue, to attract more weddings and be a hub for local businesses, I was convinced we could help - and excited by the prospect of working with such a lovely, open minded and progressive group of people. Maybe it was fate, or maybe divine intervention that I sent that email at the right time, I'll never know, but it's been a privilege to grow what we're doing and learn from St Luke's and their wonderful community of space users."
How bookings used to be managed at St Luke's
St Luke's has nine bookable spaces, that had different systems for managing bookings. The three seminar rooms and church received booking enquiries through email, a web form on their website, phone and walk in. These were then entered into a desktop calendar tool (by Administrator, Pamela) and also entered into 'The Bookings Book' - the main source of truth for who was using what room and when. Payment for these spaces was done either by cash or POS on the day or regular users were sent a monthly invoice. The counselling rooms have a high frequency of bookings from a group of counsellors and had an online, invite only, self serve bookings calendar. These users were also billed monthly for their room usage.
Although this process was manageable, there were a number of pain points that the team wanted to solve.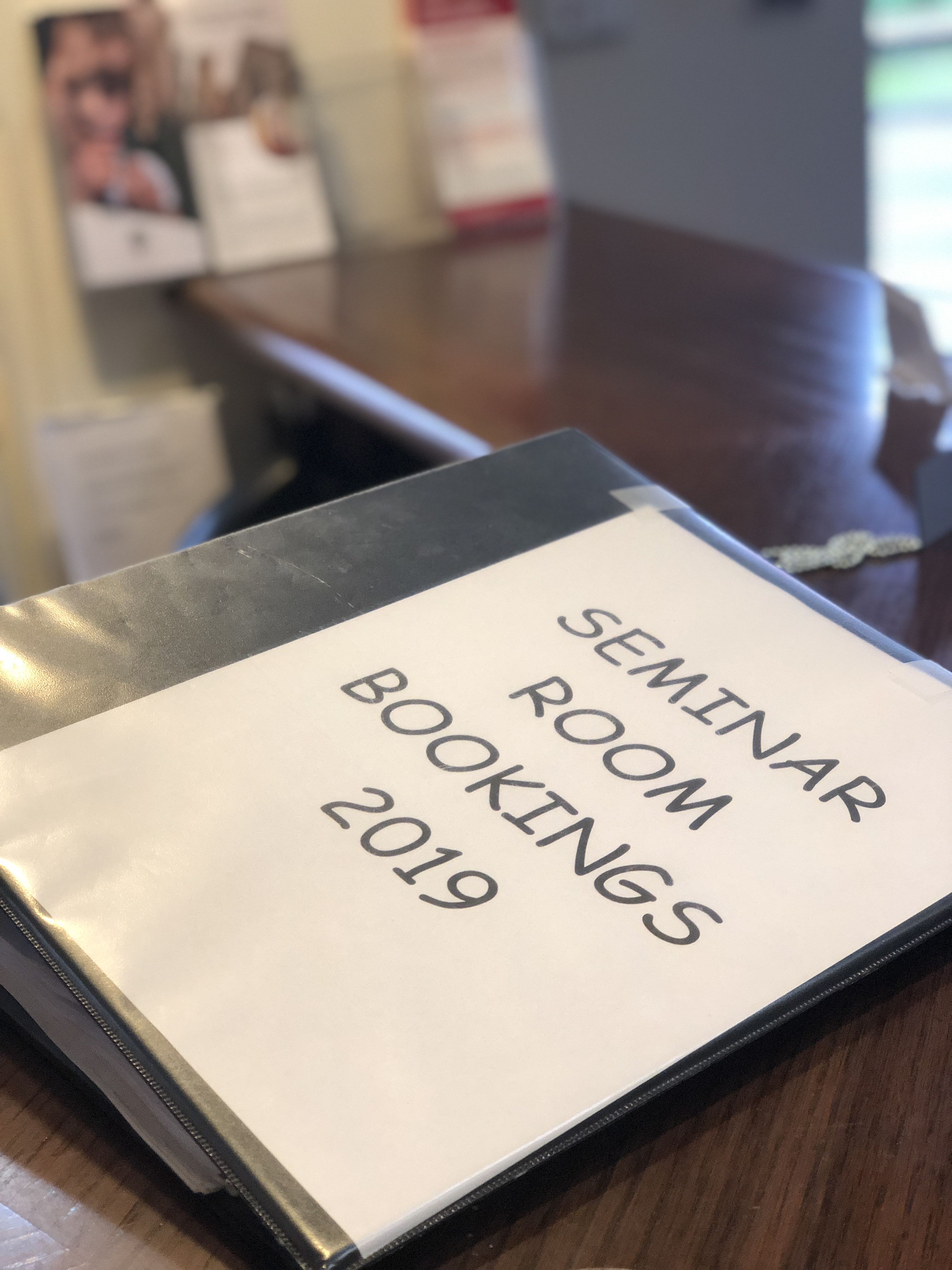 Visibility of room bookings and availability
If any of the team needed to book a room, they had to wait for Pamela to check the availability. As some of the team organise sessions for external and sometimes urgent case work, this meant a delay to getting invites sent. For new and existing customers wanting to book a seminar room, all room bookings had to be checked and processed by Pamela, which meant customers had to call or email to ask whether the room they wanted was free.
Compiling Auckland Council data
St Luke's receives funding from Auckland Council and is managed by the church's Parish Council. As part of the funding arrangements with Council, St Lukes have to report utilisation data. As the availability was managed in two separate systems, this could be time consuming to collate and submit.
Chasing payments
Invoices for regular users were generated and sent at the end of the month. Most people paid promptly, but there were always a few who would forget and have to be chased. Some customers have been using the rooms for many years, and feel more like family than customers, so it was always awkward for the team to have to ask 'can you pay us please?'
An innovative light & orchestral show in the church
The centre has great spaces for wedding celebrations
Unlocking the potential from the centre and it's location
The team had also identified several opportunities that they felt they could achieve by moving to an online booking system:
1. Reaching new and different customers
The space at St Luke's was busy at certain times, but had plenty of times where it was quiet and could host more people. The team felt their facilities would be a good fit in particular for...
Local Businesses
As they are in between the busy Remuera and Newmarket retail and business districts, there are many small businesses like surgeries and shops who have 10-20 people teams and no meeting space. St Luke's wanted to encourage more businesses to use their spaces for team breakfasts, training and away days.

Weddings
As a progressive Presbyterian church, St Luke's is inclusive and welcoming for people wanting to get married from any background, religion or sexuality. Their beautiful church can be used by couples wanting a traditional Christian wedding, but also by couples wanting to bring their own pastor or have a celebrant/non religious ceremony. St Luke's wanted to increase the number of weddings at the church and use of the community spaces for celebrations and drinks afterwards

Music
St Luke's has always been a hub for classical concerts and organ recitals, but they wanted to diversify the genres of music, to widen the appeal of their programming to a younger and more diverse community. St Luke's has exceptional acoustics and has plenty of availability for mid week concerts and rehearsals.
2. Pricing and fees hadn't been updated in a while
It is important to St Lukes to keep their facilities affordable, however they had invested in redecorating and improving the AV technology and the prices did not reflect these upgrades. They wanted an opportunity to adjust the pricing (just by a few dollars) to keep up with their costs. Moving to online, transparent pricing, seemed like a good opportunity to do this. They also wanted to formalise charging for amenities like tea & coffee supplies and the piano hire.
Why SpacetoCo was a good fit for St Luke's
St Luke's was considering a few different options before choosing to work with SpacetoCo. Some of these options included specialist Church management software and online availability website widgets.
St Luke's chose SpacetoCo as we were the only option that could provide ALL of the following at an affordable cost:
A modern, familiar, responsive booking experience for their customers to pay online

Software that manages & automates availability and payments for casual, regular and internal bookings to enable visibility and scalability of the processes
A marketplace that would make them more visible and diversify their community bookings
In addition to the technology, we also provided:
Live support for their team and their customers, meaning the team have a back up for out of hours questions

Personalised support to transition to the new system and design the new processes

Data entry of all the existing bookings

Customer communications and change management

Marketing and space activation support
St Luke's were also willing to help shape the solution. They liked that they were one of the first to get on board, and therefore got the opportunity to help design something that really worked for them.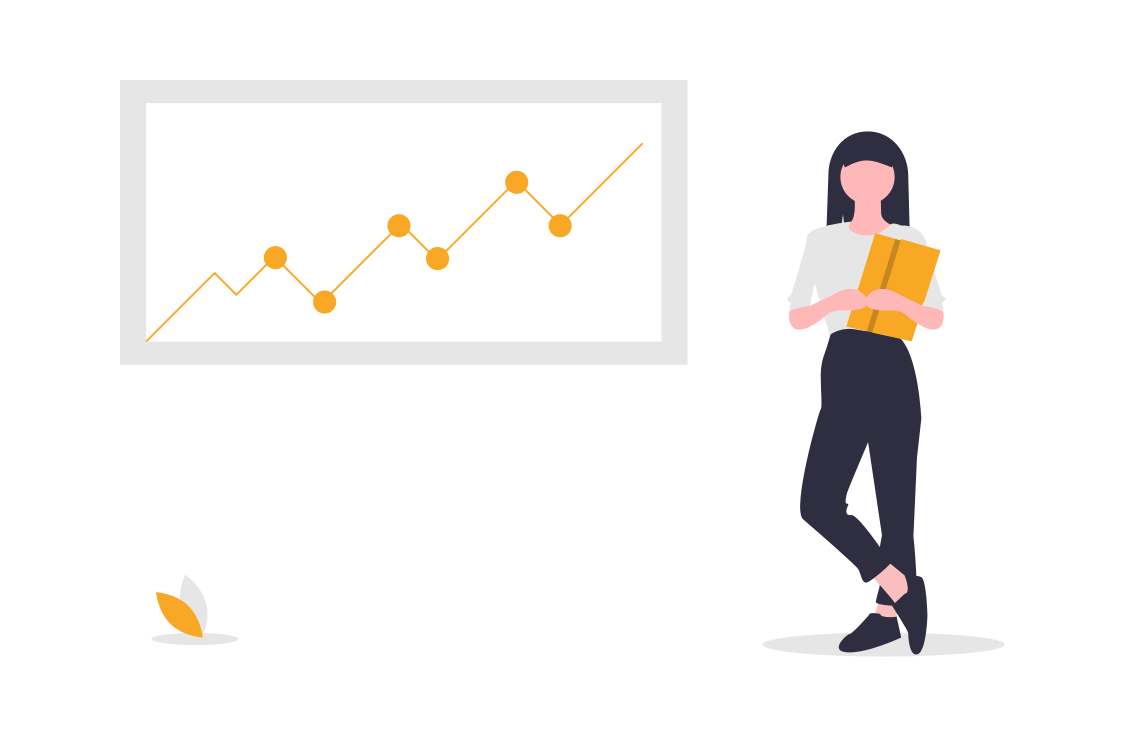 We can help create a business case to calculate the benefits and costs of moving to an online booking solution.
Getting approval and sorting the business case
As with many community spaces, St Luke's has a governing body, the Parish Council, that needs to support and approve strategic decisions and change. Once the management team had decided to move forward with our solution, we worked closely with the team to build the business case that would help the Council approve the proposal.
Our fee structure is 15% of all paid bookings taken through our site. There are no fees for cancellations and free bookings and the 15% includes GST.
Although the team liked that there were no upfront costs and no IT projects to deal with, they did have a concern that they would end up reducing their annual room hire income from these fee costs. As part of the business case process we worked through scenarios to show how if we could increase the bookings revenue by 15%, that this would effectively be a zero cost solution that also creates efficiencies in payments processing and reporting. We also worked with the parish council to look at how we could share the risk of transitioning to the new system. As we work on a commission based model, SpacetoCo is incentivised to help St Luke's increase revenue from bookings.
If you're thinking about how to calculate the return on investment from moving to online bookings, request a copy of our business case template here.
Making the change happen
St Luke's have between 300-400 bookings a month and over 150 customers who book both regularly and casually. We agreed in September 2019 that St Lukes goal would be to transition all bookings to be online by January 2020. This was to tie in with the normal annual process of agreeing the regular customers room bookings for the coming year, and get that straight into SpacetoCo rather than using the old desktop system. To make the transition happen we created a staggered roll out plan and worked with St Luke's to deliver it.
Timeline:
November: Photograph spaces and set up descriptions. Enable new online bookings and payments
December: Customer communications and change management. Both new and existing casual bookings now 100% online
January: Migrate all 2020 bookings to SpacetoCo. Regular customer bookings are booked and paid for online.
It t it's important to note that once we'd finalised the space photos and descriptions, St Luke's were already able to start taking bookings and payments online from new customers almost from the get go.
They required no complicated training for staff or customers, no IT or infrastructure changes and had no upfront costs to start enabling online processes and bookings.
"I still get a buzz when I see my pending bookings all lined up for me to accept in my dashboard.

Having all the invoices and payments automated is saving us time each month"




Pamela Day,

Administrator, St Luke's, Remuera


What we learned, and some hurdles we had to work through…
As with any project that involves new technology there are always some things you don't know until you try - and our partnership with St Luke's has not been without unforeseen challenges. We think it's important to be transparent that no solution is perfect, but we are very happy to learn together and iterate the processes and solution until we can make it work.
High frequency changes for counselling rooms just didn't work...
The original plan was to enable the counselling rooms to have live availability and be bookable online, and therefore be able to easily take both casual payments from new customers and charge regular customers monthly. For other community spaces that we work with, it's preferable for regular bookings to be entered by the facility staff as often there is high demand for specific time slots and spaces, and the staff need to ensure fair distribution of these sought after slots across community groups.
Our system enables 100's of bookings for multiple years to be entered in a matter of minutes so that they are 'set and forget' with the option to cancel if needed by the guest. St Luke's had used a similar system for their counselling rooms - each counsellor would have a years worth of regular slots for their spaces in an online calendar and they would cancel if they didn't use them. However, after we had input the 1000's of counselling bookings for 2020 and communicated the change to the 20+ counsellors, we realised the frequency of cancellations and requirement to book new slots was far higher than anticipated. Counsellors often have last minute appointments that come in, and they need to quickly make new bookings -therefore a yearly 'set and forget' was not going to work. It would be impossible for Pamela to manage the changes - and defeat the object of what we were trying to do.The comfortable and homely counselling rooms are in high demand at St Lukes.
How we worked through it...
The highest priority for St Luke's was to keep their valued counselling customers happy using the centre. We made a decision to revert to the old online calendar just for counselling bookings. We agreed that at the end of the month we would reconcile the bookings in the old system back to SpacetoCo so that all payments could be automated, which at least saved Pamela from having to manually invoice. New casual bookings for the rooms could still come though SpacetoCo but would just need to be double checked against the other calendar.
For SpacetoCo, it was back to the drawing board. We worked with St Luke's to understand what new functionality would be needed to enable a good experience for the counsellors. This has required re-thinking permissions, enabling instant book and how the bookings approvals works. Although it's not been ideal, we know that getting this right for St Luke's will mean we can get it right for many more centres that use our platform for high frequency, high change bookings.
Dealing with a global pandemic
No-one saw this one coming! Unfortunately the pandemic has been hugely impactful to those working in the community sector where the services they offer rely on people being able to meet in person and they are often serving the elderly and most vulnerable people. During lockdown (level 4 & 3) we had no choice but to cancel all bookings, which was devastating from both the inability to serve the community and the hit to the revenue from bookings.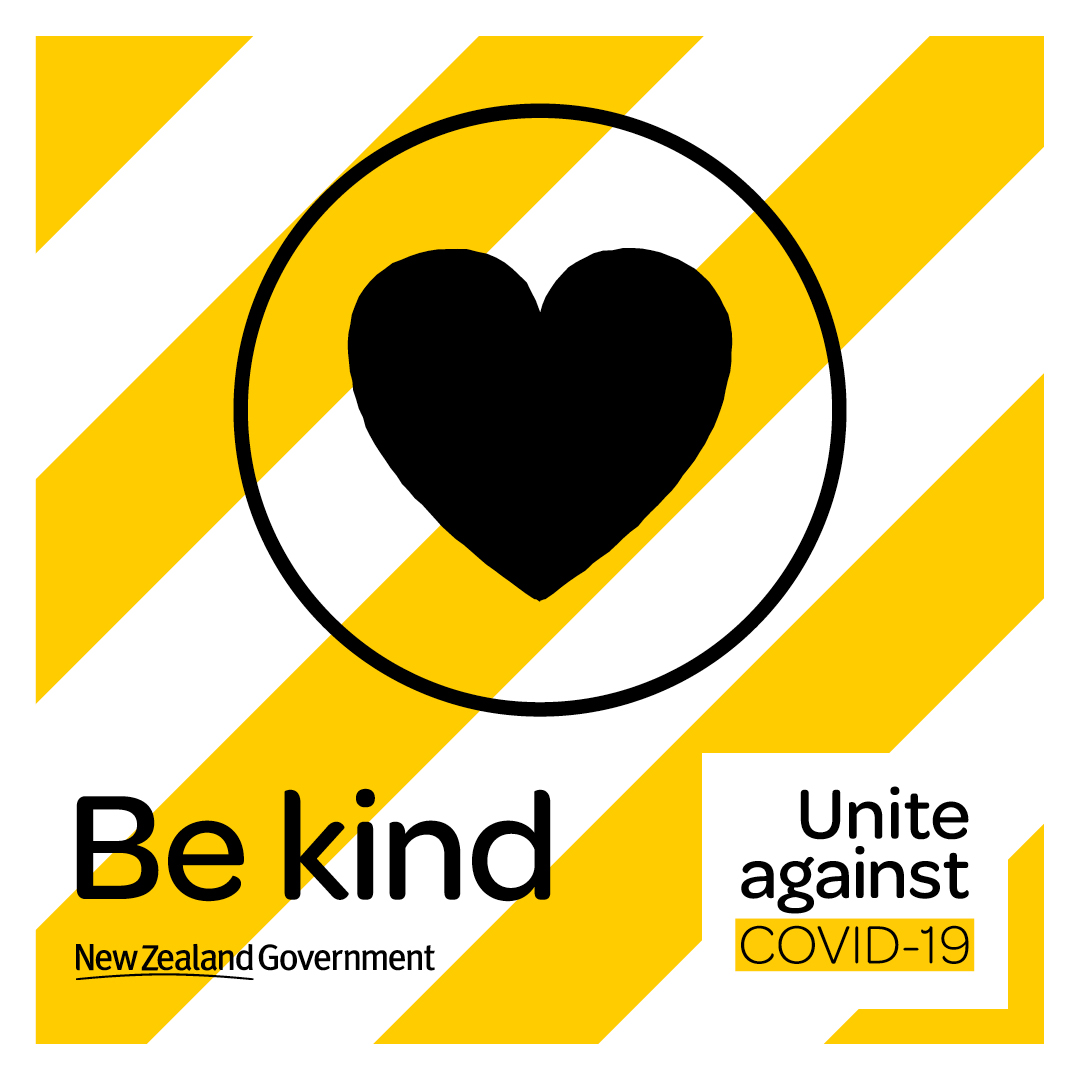 Cancellations are never fun, but having self service and automated refunds makes it easy to sort this remotely, quickly and safely.
How we worked through it...
This was a hurdle where moving to a solution that has self service and automation was actually a big help to the centre in dealing with the fall out.
All bookings can be self service cancelled by customers. This meant that refunds happen automatically, or the room hire is taken off the monthly bill. This meant no manual processing of refunds or cancellations for the centre staff.
All re-bookings for casual guests can be done by the guests directly. This mean no shuffling things around by the centre, customers can view availability and rebook when it was safe to meet again

Although the physical premises were closed and no staff were on site, St Luke's was still able to receive future booking enquiries and serve & message their customers online through our platform

To report the impact of the closure to Council and get supporting data for emergency government funding, it was easy to download a report that showed all cancellations and how much revenue the centre lost.
What we achieved together in the first 8 months
The below data points are a snap shot of the power of what using SpacetoCo has automated and achieved for St Luke's.
4500+

Bookings processed

83

Regular hirers pay monthly

300+

Invoices automated

100%

Payment collection success

8500+

Hours booked
"Before we worked with SpacetoCo, we did have a room booking system that was working - but it was so dependent on the knowledge and skills of one person to know how to manage the bookings and the invoicing. Now we have a system that means we can all jump in and see what's what, which means it can all run quite smoothly when we take leave. This is why it's worth paying for the system - as it's means we have more automation and an established process that means we can grow without increasing the dependency on our team. We would recommend SpacetoCo to other community spaces."




Colin Rose,

Community Director, St Luke's, Remuera


Increased bookings from new customers
The diversity of booking requests from new businesses, community groups and individuals has increased. The quality of booking requests has also increased - as customers have paid upfront and already established the availability works.
Reduction in payment processing time
Each month we automate receipts for all casual bookings and approximately 50 invoices and direct debits are taken without the team lifting a finger.
More accessible bookings data for Auckland Council reporting
All bookings data can be downloaded any time to compile the mandatory reporting back to Auckland Council and for financial reporting for the St Luke's finance team
Improved online photos, information and booking experience
All St Luke's nine spaces are searchable and bookable online. They have extensive descriptions, which helps reduce repetitive enquiries. The information can be updated in seconds by the team.
Online availability for all staff and customers to see
The availability of the rooms can be seen online by customers, and staff on any device, at any time. It's also visible on google calendars for a visual snapshot. The 'Bookings Book' has been retired.
Increase accessibility for customer enquiries and out of hours
Customers can easily make bookings any time of day, which means St Luke's is more accessible to more people.
Back-up and customer service from a partner who cares
SpacetoCo run live chat, a support inbox, have online support articles and keep an eye on pending bookings and customer issues. We are an extra team member to support the St Luke's team with customer service.
A scaleable solution for growth
All the information about customers, bookings and payments is now in one system, so anyone can jump in and manage it. As bookings increase, the admin will stay manageable due to payments automation.
Increased revenue from extras
It's now easy for customers to book and pay for extras like tea and coffee supplies. The extra income from this has meant $100+ more in income each month.
How we work together
Every few weeks, St Luke's and SpacetoCo sit down for a cup of tea and Pamela and Colin tell us everything that's working, not working and lots of ideas for how we can improve the platform for them and their guests. A high percentage of facility users at St Luke's are seniors, so it's critical that we make what we're building accessible and usable. We also speak directly to these guests to inform what improvements we need to make. We take this feedback, along with what we're learning at other spaces across NZ and Australia and build it into our feature roadmap. Thanks to Pamela and Colin (who probably never thought they would be software designers!) the platform is being built by community spaces, for community spaces. We release fixes, improvements and new features every few weeks, so we're continually listening, learning and improving.
Improvements that we've implemented for St Luke's:
A way to toggle the order of how the spaces appear to customers

How the logic for bookings that happen 'every third Thursday' work

Folders for organising internal bookings

Many text changes for email and copy to improve the customer experience.

View our other spaces

Integration to google calendar
Thanks to the incredible feedback from St Luke's and our other partners, SpacetoCo is a platform that is built
BY

community spaces

FOR

community spaces. That's how we know it works.
What St Luke's customers say
We regularly capture survey data and feedback from the guests using SpacetoCo to book St Luke's to check we're providing a great customer experience. The response has been overwhelmingly positive, showing how valued the facilities are to the community, and what a great booking journey we have created.
"

The website was very easy to use and I found an amazing space that was perfect! All the amenities listed were easily available on site, parking information was correct, and it was very easy to book and pay online!

"




Brandice,

Kookai, Newmarket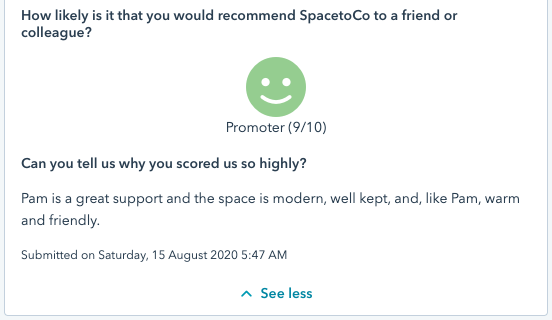 Survey response from a regular hirer at St Luke's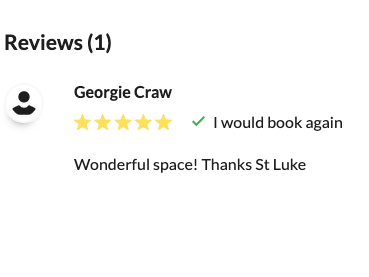 "

I found SpacetoCo.com great. The booking system was really easy to navigate and it was good that I could add in extras such as catering, into the booking. Elle and her team were super-fast at responding to any queries I had, and paying upfront meant I knew the booking was locked in and there was nothing at all for me to worry about regarding additional confirmations etc. My colleagues and I will continue to use SpacetoCo.com and highly recommend it.

"




Faye,

Grow Ltd


Activating the spaces at St Luke's
The new online processes and automation have been important to enabling St Luke's to increase bookings. However, we've also helped St Luke's with marketing and activation initiatives.
We worked with St Luke's to photograph, describe and position their spaces in a way that would help their community and new customers understand the potential of the space. This also helped provide much more transparent information upfront to help people know if the space has what they need. We provided assets like banners, flyers and buttons to help them connect up their existing channels and use Facebook to promote the spaces
We helped St Lukes to host a Sofar Sounds gig in the church bringing a totally new 200+ audience into the space and hosting a rock concert to diversify its reach. We got 15 wedding suppliers to host a collaborative photoshoot in the church space to get free publicity for the church as a wedding venue and 1000's of stunning content to further promote the space.
Check out our other case studies
City of Vincent - a vision realised
Heathcote Cultural Precinct - getting on the right pathway