The Town Team Movement and SpacetoCo presents:
Place Sharing - Place Caring


We invite you to join us for a conversation about how Town Team Movement and SpacetoCo can help you facilitate the co-ordinated activation and intersection of vibrant indoor and outdoor spaces.
1st December 2020 online with Zoom across ANZ
Do you think your community has more potential?
Are you interested to activate spaces and places in your community?
Do you want to know more about placemaking?
Build it and they will come... Will they? Did they?
Do you want to know how to spend more time on place activities, and less time on admin?
Let's chat!
At SpacetoCo and the Town Team Movement, we've learned so much about community!
By starting a conversation we realised that we share a purpose or two... collaboration, proactivity, local government, sustainability and local businesses are all part of our collective WHY ⚡️
If you like the sound of all this then you're going to ♥️ this session.
What is the session covering?
Placemaking
Space Sharing
Stories, experiences and learnings
Why are Placemaking and Space Sharing good for the community
Community enablement
Enablement with local government
Tips for place sharing

and making it easier for people to connect and get involved in community
Who should attend?
Anyone who is passionate about activating spaces and places in their community
People who work in community spaces like community centres, recreational spaces, sports and function spaces, creative spaces
Local government, district council, local board reps including CEOs, CDO, CMO, Economic development officer
Staff and board members from local Chambers of Commerce or Business Associations
Current and aspiring small businesses with space that could be used by communities e.g. cafes, yoga studio, artist studios
Community Resource Centres,

Progress Associations, Rotaries and other community spaces and groups

Anyone who is an bookings administrator or manages community spaces

Anyone who has public space or wants to create a public space that can be shared with the community in a cost effective way
Details
FREE to attend
Tuesday, 1st December 2020

Times:


- Perth 09:00am to 10:30am AWST
- Brisbane 11:00am to 12:30pm AEST
- Adelaide 11:30am to 1:00pm ACDT
- Sydney 12:00pm to 1:30pm AEDT
- Auckland 2:00pm to 3:30pm NZDT
Online with Zoom (information sent through after registration)


Who is who in this Zoo[m]
Both SpacetoCo and the Town Team Movement are powered by the community.
The Town Team Movement
Town Teams are positive and proactive community groups that include businesses, landowners and residents working collaboratively with their local government to improve a place or area.
Town Team Movement is an 'underarching' organisation that supports, connects, promotes and inspires Town Teams around Australia and New Zealand.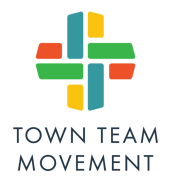 SpacetoCo
SpacetoCo.com is a marketplace for the short-term hire of spaces in the community. SpacetoCo partners with businesses, local government and education institutions to enable space sharing by the hour.
By connecting people with spaces and spaces with people we help to: support local area economies, create community connection and realise a more sustainable future.