The Suburban Dream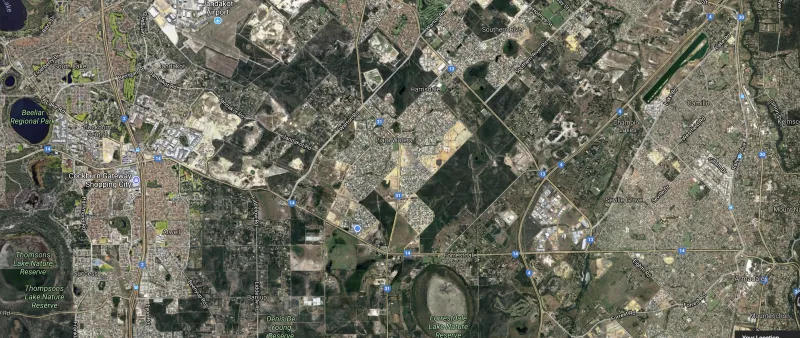 Like many Perth suburbians, I bought into the lifestyle of a large block, 10 minutes off the freeway in the fast-growing southern suburb of Harrisdale/Piara waters. We parted ways with over half a million dollars, choosing a local Perth project builder to complete our mini-mansion; 4 bedrooms, study, family, 2.5 bath, double garage, stone benchtops, wood flooring, upgraded tapware, and of course the front & backyard with as much space as our 544sq/mtr block allowed.
After our first summer with a 30min drive one-way to the beach, we forked out for a rather large freshwater pool, complete with all the trimmings including that beautiful glass pool fence. We brought in some country elements as well, adding 3 chickens (which became 2, then 4, then 3, then 5, then 4 - all thanks to our Siberian Husky), a few fruit trees and some grape vines.
A few light fitting changes, one massive skylight, some wall art, indoor plants and an outdoor kitchen later, we found ourselves reaching that goal of having our dream home in the suburbs.
But is this the dream that most Australians should be aiming for? Is this the dream I had in my mind when we first started to build?
While I spend most Sundays attending to a variety of tasks like oiling the deck, cleaning the pool fence, mowing the grass, removing cobwebs and trimming the vines, (all of which add expense to our already tight budget), I begin to reflect on how this could be different. Why do most suburbians fall into the same trap that sees us spending more time fixing, cleaning & watering than we'd like? I now ask myself questions like:
What if I turned my entire front yard into an edible garden? What would that do to my health, budget & visual appeal of my house? Would it allow me to connect with my neighbours more?

Why couldn't I have just paid the neighbour across the street to use their pool a couple of times a month during summer? Why did I build my own?

OK, now that I have this amazing insta-worthy backyard, can I make money from it? Would other families in the area benefit from all of my hard work for their next child's birthday party? I've even got a small bouncy castle they can use.

Would my firepit, surrounded by the perfectly cut lawn, right next to the lemon and lime tree, be a suitable venue for a group of friends wanting to catch up over a couple of beers on the weekend? Could I make money from this?

Could my 12-seat dining table work as board-room for a local business, complete with a bowl of my homemade pasta and a lazy swim on a hot summer's afternoon?
What about my entire house, could this be something different? We've found ourselves in driving distance to most places, but a walk or ride to any decent coffee or grocery store (not the Woolworths & Coles kind) is out of the question. We don't have co-working hubs, funky cafes, or council facilities that ooze with character close by. Just house, after house, after house.
What would it look like for my entire home on our 544sq/mtr block to be turned into a community hub? Each bedroom could be an office, the kitchen would be for everyone's use, the backyard open to weekend get-togethers, and that front yard turned into the streets edible garden. Could this work as a viable business? Would it be embraced by the suburb I find myself in? Would it reduce congestion in major cities by creating local, accessible hubs that people could walk or ride too?
I think it's safe to say that today's technology would allow such an idea to work. I think the only thing stopping this from becoming reality, is the safety net we find ourselves living in and the challenge of saying, 'No, there is a better way of doing this'.
Daniel Franco
Co-Founder | SpacetoCo
[/fusion_text][/fusion_builder_column][/fusion_builder_row][/fusion_builder_container]