How 312 Hub turned their space into sustainable income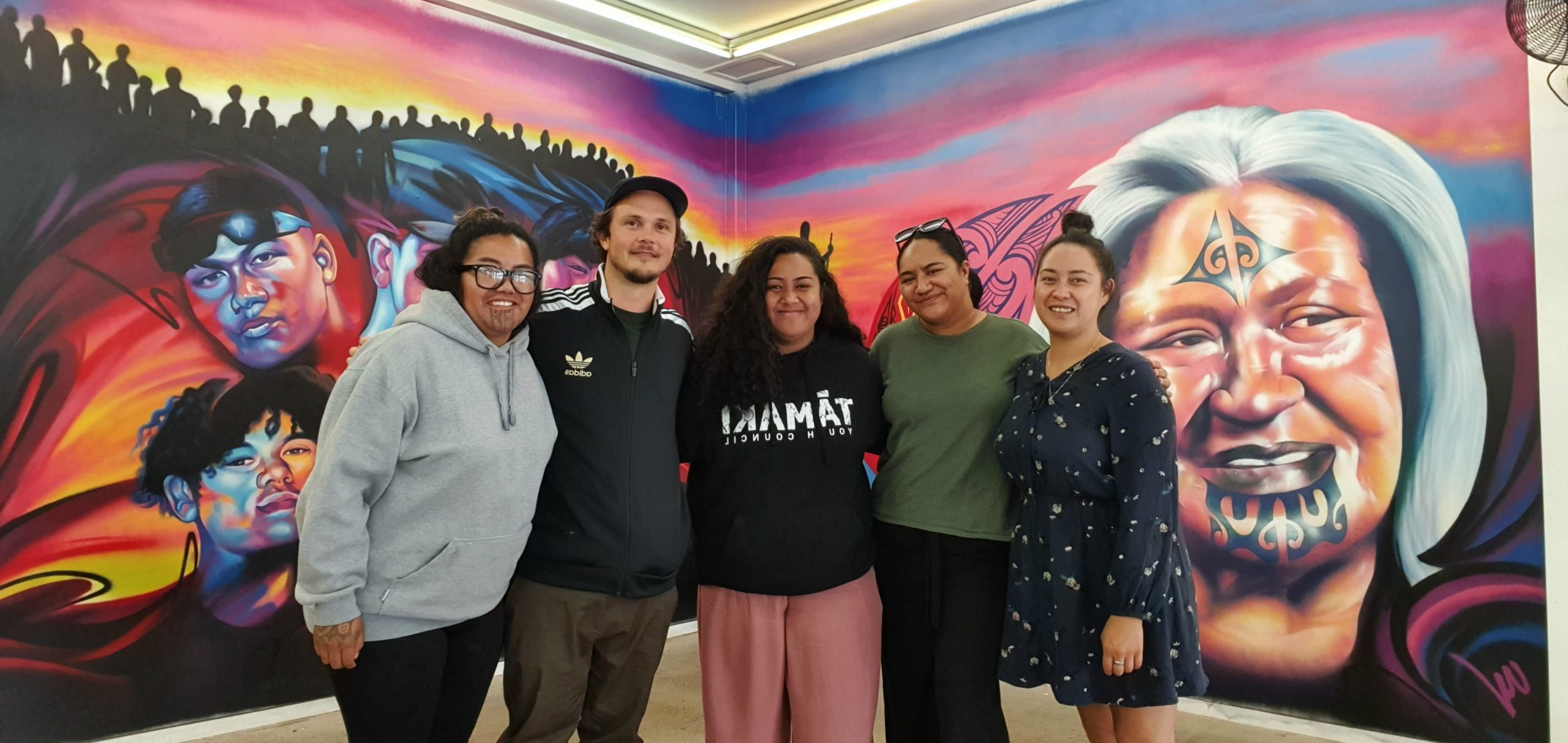 How to increase bookings for your creative space!
Have you ever walked into a space and instantly felt joy? This hit me when I first visited the 312 hub in Onehunga. It's as if the space is scented with a magical air freshener that gives you a delicious potent hit of full-on opportunity and 100% positive vibes. The second thing that hits you is THE COLOUR. It's everywhere – massive bright murals splashed across the walls, pictures telling a thousand words and conveying an unspoken message of you are welcome here. The hub is an arts venue that has six spaces that can be hired ranging from an incredible events space, a board room and creative arts spaces for making, creating and recording. We hope their story can help you get ideas for how to increase bookings for your creative space and grow your community.
Since February 2020, SpacetoCo has been working with 312 Hub to help more people find and use this amazing community space. In the space of a week, we set the space up to take online bookings, and in its first month we've enabled them to start monetising the space and create sustainable income for the organisation. We caught up with 312's Managing Director Amiria Puia-Taylor to hear more about the amazing work she does and how SpacetoCo is helping her share the space with her community.
Tell us about the Kaupapa (purpose) of the 312 Hub?
The 312 Hub is 'a home to be understood.' We are an art space youth organisation in Onehunga, Auckland. Our kaupapa is all about trying to get access to the arts for young people in the wider Onehunga community. Our three core business streams are arts activation, arts education and what we like to call arts hustle – which is pretty much social entrepreneurship. We're all about trying to help young people unlock their potential and turn their dreams into reality and action. We've been operating for about 2 years now.
Why is it important that the youth community get access to arts facilities and education?
Well, now more than ever, art is vital for the human being. It's an output for people who don't know who they are and don't know what their purpose is in life. Our building is a space for you to see if you like something, test it and you're safely allowed to fail. Art is also vital for our wellbeing. From a mental perspective, it helps you clear out what's in your head when you might not be able to use your words. It's also physical – it helps you get some movement into your body, especially painting. Art is a way for young people to talk to their communities and share what they're going through. It's another way for the community to look into a young person's life and see what they're capable of without awkward speeches and articulating yourself with words.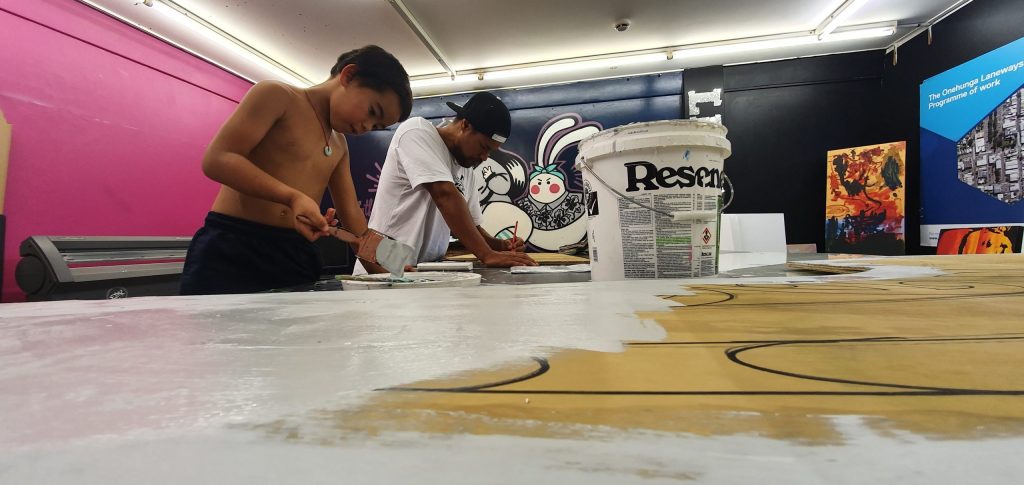 What is it about the 312 Hub physical space that helps you deliver on your Kaupapa?
We have 3 simple core values which we live and breathe in the space. Aroha meaning Love, Manaaki meaning to uplift everyone's mana and integrity and Tautoko – to be supportive at all times. These three values are a blanket of protection for everyone. The physical building is just like, when you walk into it, you feel you're allowed to do stuff, that you're not going to get in trouble, you're not going to fail and no one's going to judge you. It means that without me telling people they know they're allowed to tag on the wall. So we get more visuals that reinforce what we're trying to do.
Tell us about what life was like before SpacetoCo?
Before SpacetoCo life was a challenge. We have this incredible space that we worked so hard to get – but most days it was empty. Our inbox was full of messages from people wanting to use the space, but it was overwhelming to manage. We'd tried a number of booking systems and none of them worked. It just felt like we were doing our community a disservice, by not making it easier to book and access the space.
Why was it so challenging to get a booking system that worked for you?
We realised we had 3 different types of people wanting to use the space. There are people needing to use the space who had no money at all. They would offer to reciprocate in some way to give back for the use of our space. We love these people – it's part of our kaupapa to serve artists who need space to create. However, we suspected that there was a group of people we were not serving in this category as they didn't have the confidence to ask for the space. Then there are those who took the space for granted. They used it for free, grew a huge following through leveraging the brand and the network that we built up. They would not reciprocate or start paying us when they could afford to, so there was bad energy there.
Lastly there were the group of people who wanted to pay for our space – but we didn't have a proper system in place and we felt nervous about accepting the cash because we didn't have processes set up and we were not sure how to make sure our pricing created value for them – so we would lose that solid paying customer. So yeah – we were pretty overwhelmed!
What's life been like since you set up the six 312 Hub spaces on SpacetoCo?
It's given me time back to myself. It's given us structure and it's actually helped start a domino effect of generating income. SpacetoCo became our voice. It made it super clear what the 6 spaces are, how much they cost and how to book them. Before it was overwhelming for us to try and explain all 6 spaces in every conversation we were having with potential bookers. Now it speaks for itself. We just lead people to our website, they click on the link to Spacetoco and they can book. I don't have to spend a good hour explaining what's available, how it works and how much it costs. We love how aesthetically appealing the site is. This is important for creatives – they feel comfortable using it and it's attractive to them.
How has it helped resolve your issue with pricing for different groups of users and collaborators?
We think the clear pricing has been helpful to make it less intimidating for creatives to book and contact us. A lot more people seem interested in the hub now just because of the generosity of knowing that there's a 50% discount for artists and it is 100% discount if you work with young people, that it's really clear that if you qualify these different areas, there's a deal for you and that we're still catering to your guys' needs. For the paid bookings, it's so easy – the money just goes into our new business account. It's so healthy to see that money from SpacetoCo coming in.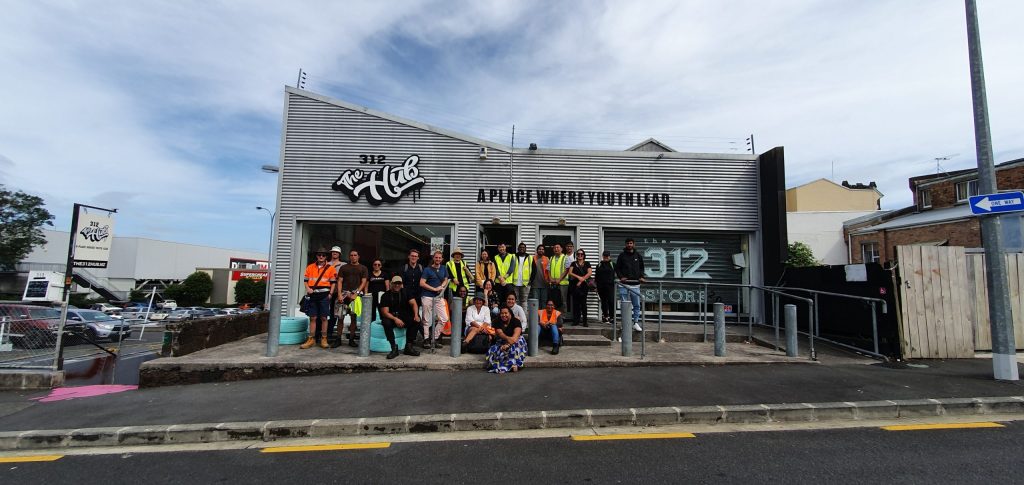 How has using SpacetoCo helped you increase bookings for your creative space and impacted you and your team?
It's so much healthier – I come back to wellbeing because now I've got more structure of how we're running the hub and how my crew work. I'm not overwhelmed any more. I just feel great in terms of transparency. Previously people used to pay by cash. It was hard to account for it and build trust with the team for how we handle cash. But now it's clean, it's documented, and our crew forms trust with each other. It actually helped us work out what we can start using the money for. We have creative freedom to start thinking about what the future might look like when we start to push it more. The feedback from the people booking has been really good – especially the promo codes.
How is SpacetoCo helping you achieve your Kaupapa?
For the first time we've been able to demonstrate to the local board that we can generate money on it's own, without us having to programme all the events. This means we now qualify for new funding. Being on SpacetoCo means we're able to activate the space. It's a visual story of how to activate the hub. If me or my crew were not around – there is still a way for people to still use the hub. The space will be activated without being dependent on me. We love how SpacetoCo is always thinking of us. You're always looking for people to use our space and collaborate with.
We could not be more thrilled that Amiria and her crew at 312 Hub are able to activate and share their space with their community through SpacetoCo.
If you're looking for somewhere amazing to host an event or arts workshop – check out their spaces now.
If you're looking at how to increase bookings for your creative space and thinking about listing your space on SpacetoCo, we've compiled these 4 simple tips for how The 312 hub was able to be so successful at generating bookings and revenue so quickly.
Interview by Elle Bell. Thanks to Amiria for the inspiring words and pictures.
Learn more about Elle's SpacetoCo journey here.
Read why community spaces should move to online bookings to grow their impact here.
Hear how another SpacetoCo host turned their yoga studio into a revenue opportunity
here.
It's free to list your spaces on SpacetoCo. We'd love to talk to you to understand how we can help you share your space.
Drop your details in the form below and we will schedule a quick chat with our local team in NZ or Aus.