Space Activation through Music! SpacetoCo + Sofar Sounds Announce Collaboration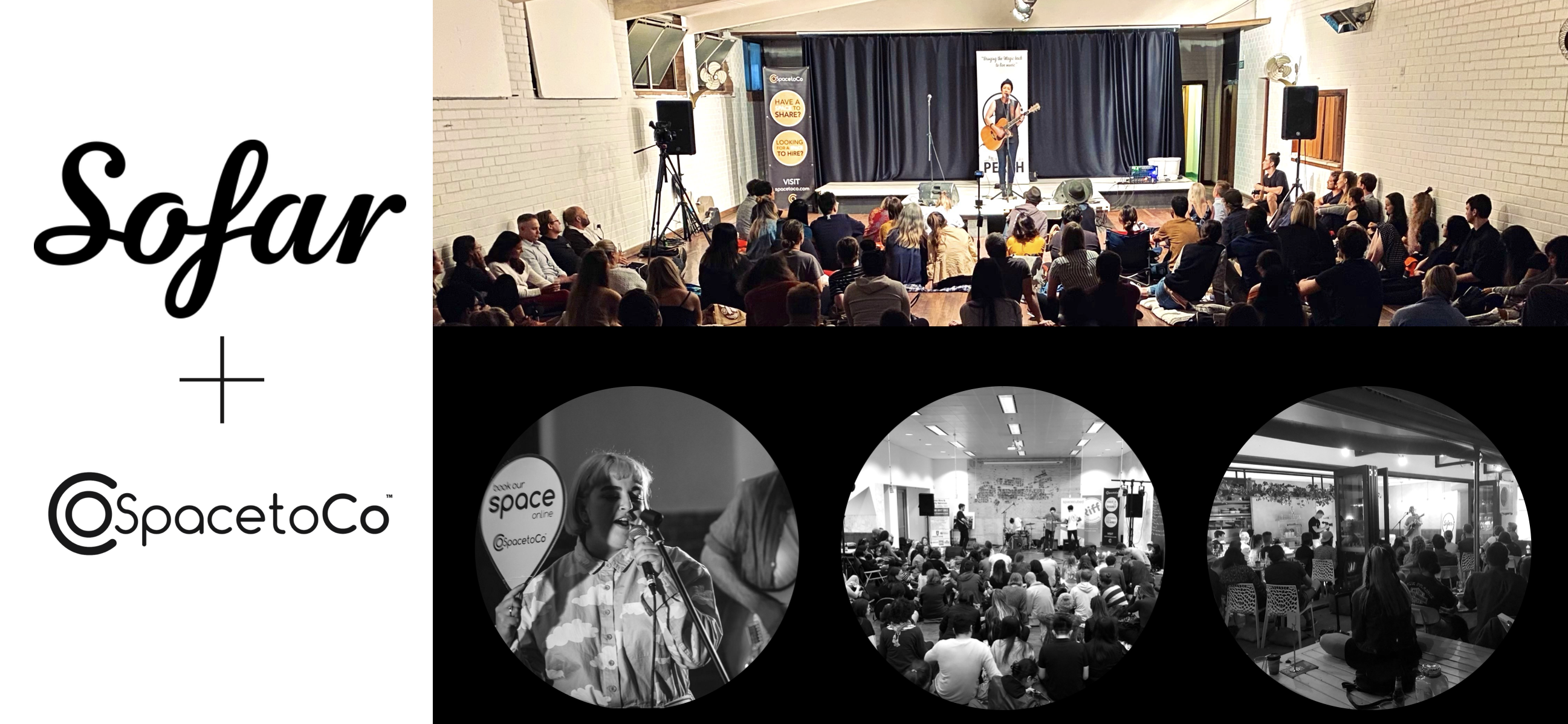 Since 2018, SpacetoCo and Sofar Sounds have been collaborating in Perth, Western Australia. Now, in 2023 with multiple exciting venue locations being added to the SpacetoCo platform every day across Australia, SpacetoCo have signed a joint Partnership Agreement to collaborate more.
SpacetoCo is well known across Australia and New Zealand as the best way to source a space for any occasion or event. Sofar Sounds curates intimate pop-up music gigs in secret locations. With more gigs than ever before being created, Sofar is always looking for unique and interesting venues to play its music gigs. SpacetoCo conversely can help activate spaces through a music event which brings on average 50 to 100+ people through the door.
'We're now hosting Sofar shows in a number of cities including Adelaide, Brisbane, Canberra, Geelong, Gold Coast, Hobart, Melbourne, Newcastle, Perth, Sunshine Coast, Sydney, and Wollongong, with the promise of expanding to even more locations soon. We love the challenge of finding venues that authentically embody Sofar's ethos. With our collaboration with SpacetoCo, we will be able to streamline this process.'
- Matt Walters, Regional Director, Sofar Sounds ANZ
'SpacetoCo has been a brilliant partnership for us! They've helped us to offer gigs in very imaginative spaces that perfectly matches the vibe that Sofar is about. We've loved working with the Perth team and its exciting to see this expand to more locations across Australia'
- Paul Clegg, Sofar Sounds Perth
SpacetoCo has been steadily increasing its stock of space offering anything from an outdoor park location to a community hall.
'We've loved seeing music gigs being played in SpacetoCo spaces! Some of the venues you might not think serve as a great location for a music gig, but with some festoon lights, sound adjustments and a small crowd, we see these spaces come to life'
-Francine van den Berg, SpacetoCo.
Anyone interested in attending a Sofar Gig can simply register on the Sofar website for their city. If there are hundreds of subscribers, a ballot system powered by an algorithm selects the successful ticket holders who are advised they have been awarded a ticket. The location of the gig is then revealed. In the background, SpacetoCo has worked with the Space Host to secure the location.
If you would like any further information about SpacetoCo and/or Sofar feel free to reach out to info@spacetoco.com or matt.walters@sofarsounds.com