It's Sofar so good!
Most days at about 2:30pm, your favourite coffee house is winding down for the day. The chairs are stacked, the mop is out and staff are getting ready to check out. Around 4pm the average cafe is empty and silent…. an after hours community ghost space… Except on one balmy Friday evening. It's the 11th January 2019 in suburban Shelley, Perth — people are converging on Tribute Coffee and Kitchen. The remnant Perth sunset casts a glow on the scene. Sound checks. Guitar strums. The clink of beers. Cars are slowing down to see what's going on. Tonight is a Sofar Perth night.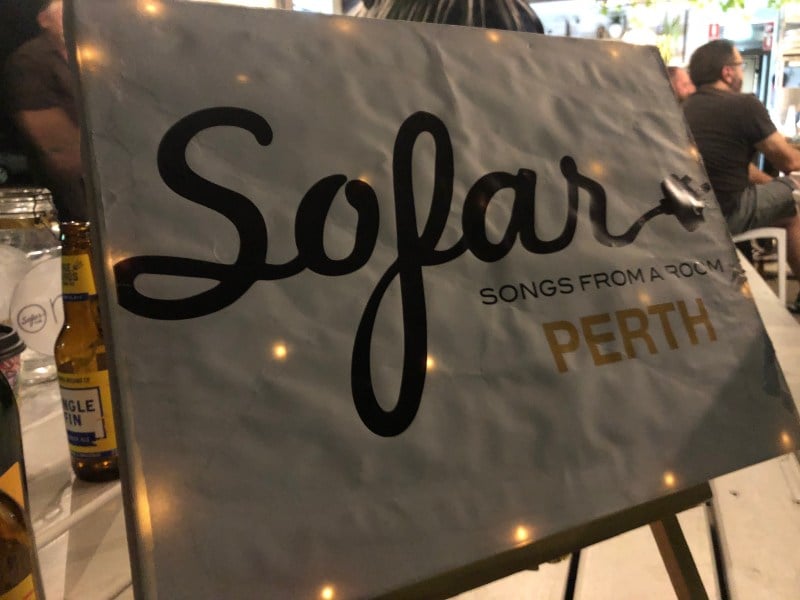 For those in the know, Sofar is an acronym for 'Songs from a room'. Sofar runs in over 400 cities globally and organises pop-up music gigs in secret locations. The artist and the location are kept under wraps until 24 hours prior to the gig starting. From 8:00pm to 10:30pm those lucky enough to have secured tickets from the ballot, get to appreciate an intimate gig with some phenomenal music talent. Tonight, Sofar Perth are making use of the beautiful space that is Tribute Coffee and Kitchen — in between sets, the staff are serving coffees, kombucha and snacks. The audience sits where they like. Some have bought cushions, most have drinks and food… There are no rules here — just a sense that this is a great crowd out for summers night.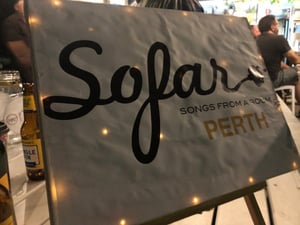 Organiser, Paul Clegg introduces the artists who'll perform tonight's acoustic set; Amanda Bellitto, Rupert Stroud, and Josh Ellis. Paul reminds the audience that Sofar runs on goodwill from a team of volunteers and contributors. Following each gig, a professional music video is produced for the artists at no cost — it's a phenomenal give-back and a reminder that not everything needs to be based on money. Amanda opens the night with a soulful performance. She has a voice and a storey-telling charisma that leaves the audience still and silent. Next up is Robert — he's been travelling the world performing at Sofar cities and the experience shows. Originally from Leeds, Rupert banters playfully with the crowd and takes us on a journey laced with travellers tales. His soulful voice carries out to the street…
...more cars crawl past slowly… the drivers can't help themselves but to be drawn in, like we all are, to a gathering of people loving live, beautiful music. Closing out the night is Josh. He records samples of his guitar and voice, layering up a mix of acoustic tones — It's impressive gets us involved… at a suburban cafe on a Friday night, we catch ourselves singing Country Road before segueing into Ed Sheeran's Lego House. It's unexpected and beautiful hearing the collective voices.
It costs $10 to attend a Sofar gig. We leave feeling the experience was worth more than ten times that. This night, in this space, on this night was special. We might try to recreate it, but it will never happen like this, with these artists, again. Making use of otherwise empty spaces allows for a joining of people — whether it's a meeting, a celebration or a gig — our cities will be all the more connected with the benefits that come from sharing. And it's ironic, that the cafe meeting place, normally closed after 4pm, can also serve as an after-hours gig location where for a few hours you're singing along with complete strangers. Sofar, it's so good.
Jeremy Hurst is a co-founder of www.spacetoco.com.
SpacetoCo collaborated with Sofar Perth to bring about the gig — more SpacetoCo/Sofar collaborations are planned.
Check out the artists on Spotify and SpacetoCo's Facebook page for some videos of the night.
For more on Sofar, head to https://www.sofarsounds.com.