Are Park Spaces the Most Valuable Thing in Our Community?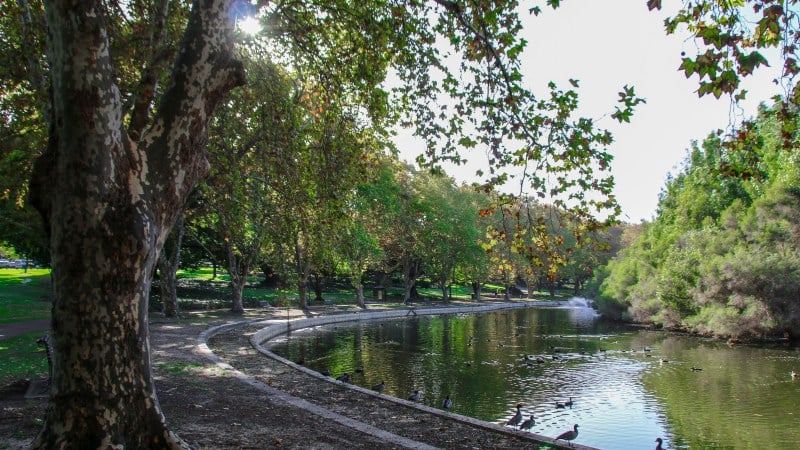 If you sit on a park bench long enough you'll see people from all walks of life pass by. Early mornings bring the fitness conscious and their daily run - you know, the ones with headphones in and a focus in their eye unmatched by anyone else at that time of day. By midday families begin to gather under the shade of trees, setting up picnic blankets, lighting barbeques and chattering away. The playgrounds start to fill with young children, giggling and exploring every nook and cranny of the park. At times you may see the odd pair of work colleagues catching up over a takeaway coffee and by late afternoon, the dog walkers start to arrive – some walk in groups while others choose the path of solitude.
When you think about it, parks draw people out, vanquish loneliness and build communities
Whether you want to admit it or not, being around people and having a sense of belonging is integral to human nature. You may consider yourself a home-body, preferring to avoid interaction and minding your own business but there's something about taking a stroll in a park that brings a feeling of connectedness; like you're part of something bigger. Not only that, nature and parklands in particular have the ability to boost the wellbeing of communities. With the growing need for urbanisation, Shanahan et al., has found a strong link between regular visits to these outdoor spaces and more positive mental and physical health (2016). Whilst you may not feel like leaving the comfort of your couch, park spaces are integral to a balanced lifestyle - even if it's just to remind you that you're not alone in this world.
Connecting
Community is all about connectedness, interaction and belonging. It's believed that meeting people can only happen in work or social spaces, but who's to say a park should be any different? You might learn a thing or two from the colleagues catching up over coffee, or find someone with the same quirky interests and who doesn't love to pat a dog while saying "hi" to its owner? Whilst you may feel that you don't have anything in common with these people, one thing is for certain, you're both in the park and that in itself can be a conversation starter. You may even find that people are much friendlier than what you expect.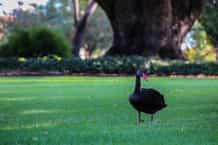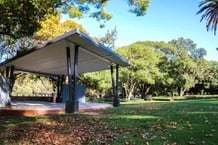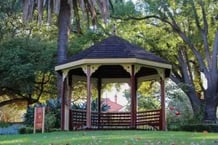 Look up - you might be surprised by what you see
Towering native trees, chirping birds and falling autumn leaves - what a sight! Sure, mobile technology is great, but take a moment and admire the beauty that is mother nature. Perth has this unique feature in all of its parks - native flora and fauna. Take Hyde Park in North Perth as an example. Being the third in a chain of swamplands, the City of Vincent preserved its natural lake and exotic trees, thereby protecting the native birdlife. Add in a few grassed areas, playgrounds and gazebos and hey presto, you have a community parkland! The park not only creates a tranquil space for the residents in the surrounding suburbs, but staying true to the native characteristics of the environment allows visitors to reconnect with Australian wildlife.
So, when you think about it, parks really are integral spaces to a community. The natural environment provides an escape from an urban lifestyle and a chance to experience the native landscape close to home. With the importance that greenery plays in positive health, it's not surprising that people are drawn to these spaces. Whether it's to take a stroll or celebrate a birthday party, parks have a versatility about them that makes them central to a community and an ideal place to feel connected to the world around you.
References:
Bedimo-Rung, A. L., Mowen, A. J., & Cohen, D. A. (2005). The significance of parks to physical activity and public health: A conceptual model.

American Journal of Preventive Medicine, 28

(2), 159 - 168. Retrieved from:

https://doi.org/10.1016/j.amepre.2004.10.024

Cassandra. (2013).

8 Reasons Why Parks Are Important

. Retrieved from Green Ribbon:

http://www.gardinergreenribbon.com/why-parks-are-important/

Shanahan, D. F., Bush, R., Gaston, K. J., Lin, B. B., Barber, E., & Fuller, R. A. (2016). Health Benefits from Nature Experiences Depend on Dose.

Scientific Reports, 6

(1), 1-10. Retrieved from:

https://doi.org/10.1038/srep28551

Wilson, L. (2018)

Regional Parks Connect People to Nature Close to Home.

Retrieved from The Nature of Cities:

https://www.thenatureofcities.com/2018/01/24/regional-parks-connecting-people-nature-close-home/
Francine van den Berg is manages Customer Experience with SpacetoCo.
SpacetoCo has a working partnership with the City of Vincent in Perth, Western Australia.
You can view and book all their spaces - including some stunning parks - here!