Shouting your community programmes through the roof!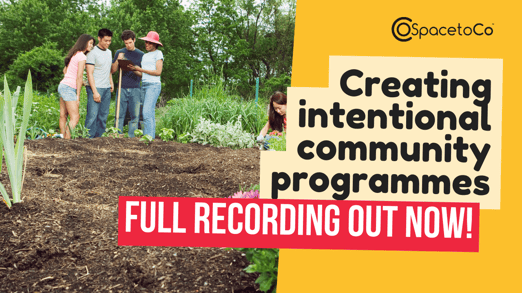 Want to feel inspired by the work you do in community venues? Then it is an absolute MUST to watch our April's community venue learning series.
Even for someone who doesn't work for a community venue, I felt so inspired by the work the people who do (as though I wasn't already). Our speakers Sian Brown from the Willagee Community Centre and Julianne Mackay from the Victoria Park Community Centre lay it out in simple terms that community programming crosses over so many aspects of running a community venue, such as placemaking, funding, community engagement, volunteer care, etc. However, they share some great insights on how to really think creatively and intentionally on the programmes you can run for your venues - and the great thing about it are there are no rules. There are no one size fits all for all venues. There is no secret recipe. It's all about having a conversation with the community with what they want. Testing the programme by running it, and see where you can adapt and improve. Should it be successful, then vóila!
So as Julianne said in the recent learning series "I think it's important to blow your own trumpet when you're doing good things. [You should] shout it through the rooftops when you're doing amazing things and just how much community venues do with so little... you just gotta give it a go."
Luckily, you too can be inspired and watch the full recording now! Watch it here 👉 https://blog.spacetoco.com/access-recordings-community-venue-learning-series