Space Sharing
Everything you need to know about sharing spaces...
Updated September 2021

Whichever way you look at it, humans are for the most part brilliant at building stuff… the basic human need of shelter is largely covered… check…we have nailed that down 😉
The thing is, we absolutely suck at making the most of these structures. If you imagine the effort and expense involved in building, well, just about anything, you realise we humans are not just great at planning, we are also terrible at planning. We can build any structure but we often rely too much on the adage, 'build it and they will come'…
Space activation is a relatively new concept but it's typically symptomatic of a need to fix a problem zone in a community and/or bring the community back into an area. But what about underused space?
So, think of a building… any building. If it's your home, your place of work, your local church, your favourite cafe, your garage or local school, there are plenty of hours in the day, week, month or year where the spaces in these buildings are empty, silent and lonely. Often we have the utilities connected up and waiting for when people do arrive… the hot water system is primed, the lighting is on and the fridges are running… Just take a moment and consider the waste that is happening…
There is probably no better illustration of this inefficiency than your local school. Picture a school in your community… Like most educational institutions, it is used fairly effectively 8am to 4pm about 40 weeks of the year. At first glance, this sounds pretty good, but let's break it down a little more….
From 9pm to about 8am, we would likely agree that schools are likely not to be used… this is when most of us are asleep, eating, watching TV or something else…. But what about after school? Let's say 4pm to 9pm? This represents 5 useful hours… every single day of the year. When we factor in school holidays and weekends, we can find over 3100 hours of usable time in a year… this is over ⅓ of the year! Schools are actively used for 1600 hours (8 hours per day for 40 weeks). We could be using schools for more time than the purpose they were actually built for. Now you might be thinking… what could I possibly access at a school? Here's a sample: playing fields, basketball courts, gym, hall, auditorium, outdoors undercover area, library, playground, classroom, dance room, art room, computer lab, maker space, theatre… Here's another question – who pays for your school? Answer = You do! Whether it's a private or public institution, you are paying for the schools and their upkeep in your taxes… Dude! Are you getting your money's worth? Now where is your school located? It's in the heart of most communities… how did we get here? The buildings we all pay for, located a short distance away and used for only 18% of the year are off-limits to the community who effectively own them? It makes little sense.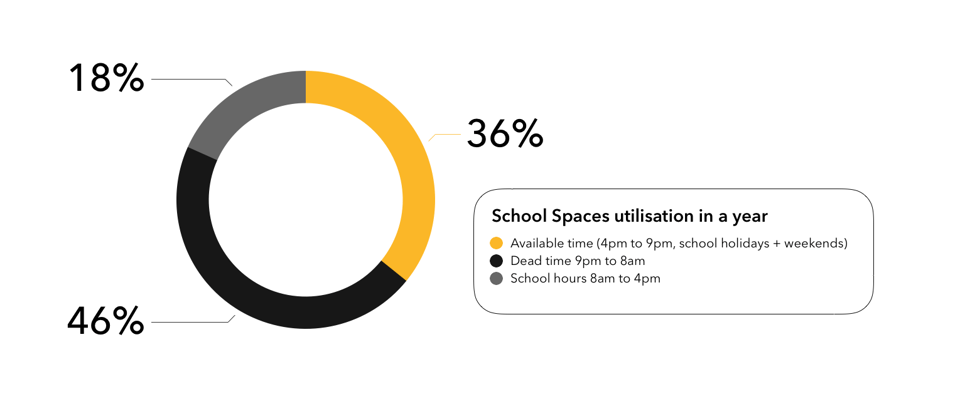 In recent times we've seen the rise of online social networks that get people together offline as well as online. Platforms like meetup.com make it easier for like-minded people to get together. Awesome right? The thing missing is where to actually meet. So what has happened, is the cafe has become the default meetup point. All this is great, but cafes are closed after 3pm most days… like the school example, what if we could use the community cafe space after normal operating hours? What would that do for local cafe businesses …and a perceived notion that we need to build more?
So space sharing is a logical concept that needs no introduction, but the way in which we humans do it, needs attention. People have needed spaces for as long as there have been people… and it used to be that sharing space was a natural, essential part of human communities. This was and is easy to do in small towns, but in large cities dominated by busy roads and dormitory suburbs, we have to work harder to know what we don't know.
In pre-war times, civic responsibilities were different to what they are now. Town halls, parks and community gardens were built and maintained by community members. We have professionalised these things now and lost something special. But by opening our eyes to improved efficiencies we might enter a new era of sharing spaces and it's more than possible that the community, local businesses and the environment will be the winners.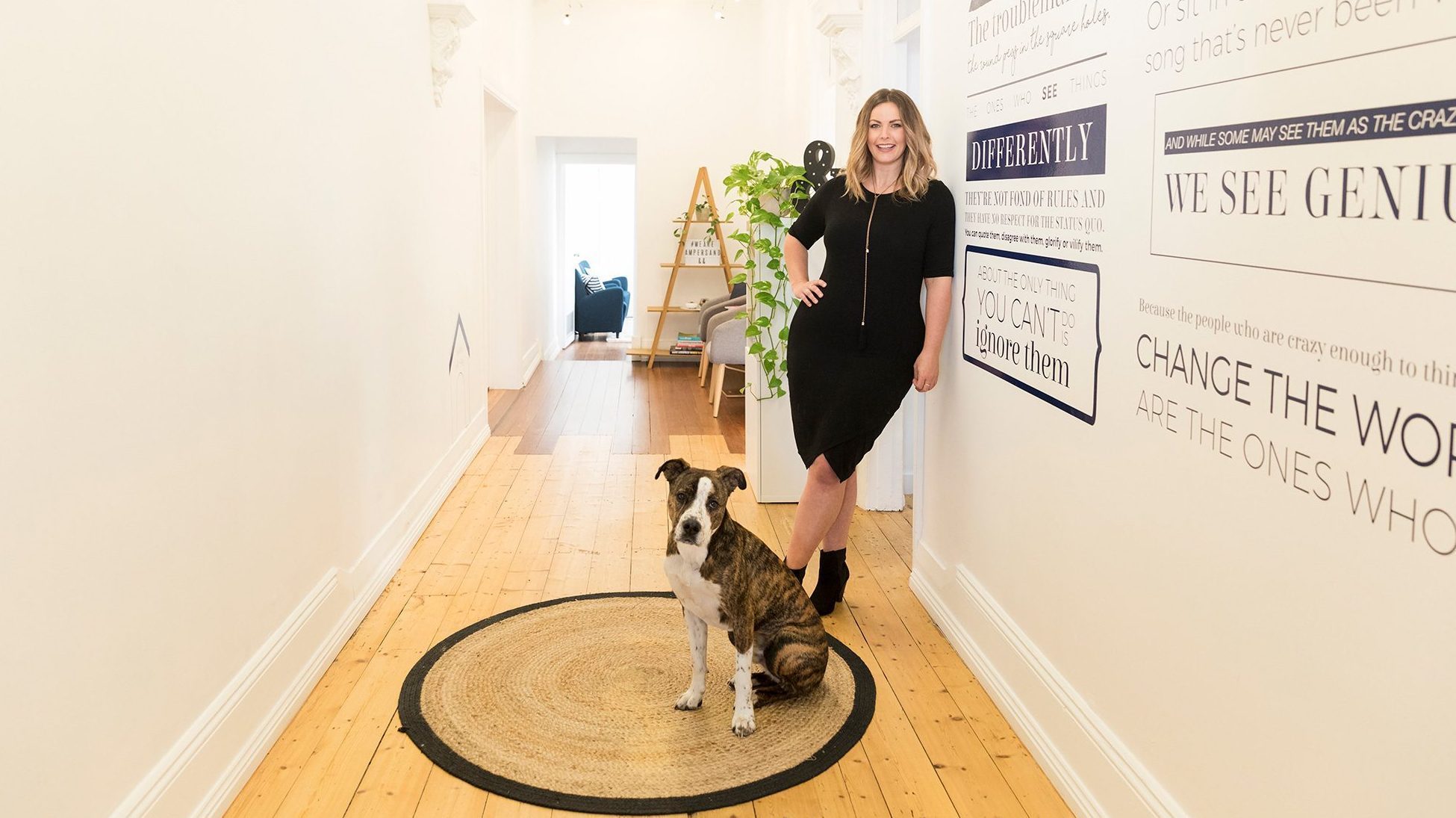 There are many reasons to share your space(s) with the community. Maybe you want to earn some additional 🤑 or perhaps you simply want to see as many people using your space as possible. Maybe you just want to encourage the interactions that comes from sharing your business spaces, school spaces, local government spaces – this part is probably the key to space sharing… As you open your doors to the wider community it will, over time, result in greater awareness about YOU. On the flip side, you will experience and learn more about the people who will come into your space. Hosting success, comes down to simply being curious and kind to the people who you will be welcoming in. This simple philosophy is how sharing space builds community and it applies whether you're an Airbnb property owner, an Uber driver or a SpacetoCo Host.
Why be a space

sharing host?
+ Make hustle money
+ Make better use of your space
+ Simply connect with people
+ Raise awareness of your space / expertise
+ Meet people with expertise
+ More use = less security & maintenance
So how do you become a great space sharing host who not only generates interest about their space and organisation, but brings in new ideas, expertise and humanity from outside?
The handshake:

The first interaction with your guest is super important. It's where you get to ask additional questions about the work they are doing and their goals for accessing your space. The fact that you are a real person sets a tone of respect and accountability that cannot be matched otherwise. If your space is accessed via a key in a lockbox, you should look for ways to personally connect before a booking – even if it's a 3 minute phone call.

Clear expectations

: If your space is not well represented it is difficult for people to know what they are hiring. Be descriptive, have great photos and show through clear writing what your space can be used for. Most poor reviews are avoided by having truthful representations up front.

Visibility and interaction

: Every guest who accesses your space will be different. Some will want to be left alone and others may be highly demanding. Being observant of human behaviour and not eating into their hire-time is what's important. Getting this right will determine if your Guest wants to come back and access your space regularly. Ultimately you should still be able to go about your everyday life whilst allowing your guest(s) to feel comfortable.

Feedback

: Be open to receiving feedback. The most successful space sharing hosts are those who ask for feedback. It is easy to ask what worked well and what didn't.

Instructions. Less is more

: Whether it's operating the lighting or staying out of the bar fridge, make sure that your instructions are easy to follow and understood quickly. Losing 10 mins of time solving a parking issue is not massive problem at an Airbnb stay, but hourly space hire can be severely impacted by lack of instructions. Because of this, it's best to have instructions that are set out

before

and

during

any space hire booking.
Our closing point in this section gets a paragraph of its very own… and it comes down to the simple mindset of kindness. We're a fan of Leon Logothetis and his TV series, The Kindness Diaries. Leon travels the world relying solely on the kindness of strangers. It's remarkable to watch the generosity of humanity at work. Being a space Host should be rewarding in terms of financial rewards, but it is amazing how an act of kindness can often reward the giver more than the receiver. Look for these opportunities to be kind – sharing space with others means we can operate outside the rules book and take the opportunity to go that little bit further for your guests. You may be pleasantly surprised by the results!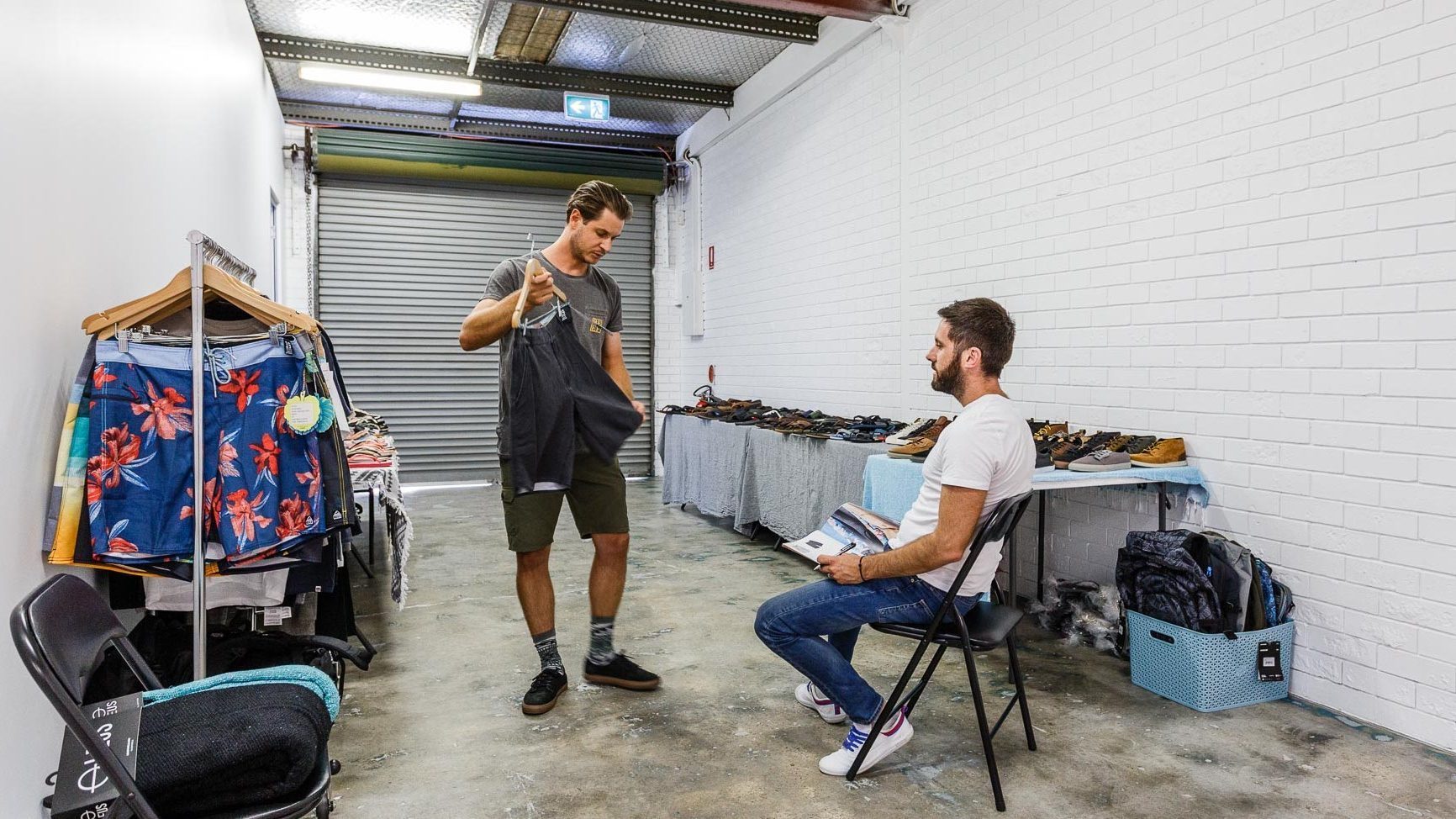 So… you need a space. You're either going to want something on a regular basis or for casual, never-see-you-again, once-off hire. Whether it's for business training, a kids birthday party or a place to rehearse, it turns out that finding space, for a short or medium amount of time, is tough! It takes ages and you'll need the patience of a saint to work through booking forms, payment details etc….. And often it turns out that even for one day a week hire, you're probably faced with needing to pay rent… ugh, we know….! 😩 However there are now platforms that allow you to rent ultra short term and by the hour. (Check out SpacetoCo.com if you want to save time and book spaces online). If you're a regular hirer of space, this is especially great news. Committing to 24/7 rent is great for landlords, but it can be a financial burden for any start-up business or individual working on their side-hustle…
So what else is so good about using shared space?
I like to move it move it. Why stay put in one place? You can reach different audiences, access different facilities or simply have a change of scene… all by moving your activities around the place. Having access to different shared spaces means you can even switch your events to a different area of town from one year to the next. Don't like the space owner? Move. Don't like the smell of a building? Move. Want a space with a view? Move. It's much easier if you can access shared spaces.
Every day I'm hustling. The research tells us that the gig economy is a thing. People are side hustling at an astonishing rate. According to Upwork, ⅓ of the Australian workforce freelance 🤯 and it's on the increase… If you want to launch your pop-up shop, new yoga practice or business consultancy, it's waaaaay safer if you just share space and hire what you need when you need it. After all, if you're gonna hustle some cashola, best it goes into your pocket and not the landlord!
Cos I'm free to do what I want. It's fair to say that in the past, many people had to either commit to renting or even building then furnishing the space they needed. The sharing economy has demonstrated the freedom that comes with sharing existing stuff. Space hire is no different. Imagine you're a designer – you need to impress some prospective clients but you don't have access to an impressive boardroom for your pitch…. Well, you do now… with space sharing you've got access to a marketplace of spaces in all sorts of places to impress your clients wherever they are.
All the people. It's said that we live in times of great connectedness but increasing loneliness. When you share space with others, you inherently connect with other people. According to the Guardian, it's estimated that ½ million older people in the UK go without seeing or touching another human being for at least 5 days each week. Sharing space naturally brings the Host and Guest together and when that occurs, connections are sparked.
Spaces are everywhere and when they're shared, the benefits are not insignificant. Freedom, flexibility, cost-saving and human connection are the winners.
Gimme examples of shared spaces
Cafes | Bookstores | Yoga / Pilates studios | Boardrooms | Office desks | Event spaces | Commercial kitchens | Galleries | Halls, Gazebos | Courtyard gardens | Auditoriums | Unused office areas | Training Rooms | Photography studios | Theatres | Workshops | Maker spaces | Bars and more…
Large sporting fields | Nature Playground |Reserves | Wedding gazebos | Halsl | Basketball Courts | Youth Centres | Theatrettes | Libraries | BBQ areas | Recreation Centres | Swimming pools | Tennis Courts | Interview rooms | Community Garden | Gallery exhibition space and more..
Oval Space | Playground equipment | Auditorium | Basketball Court | Maker Space | Canteen/Cafe | Theatre | Library | Green Screen | Gymnasium | Swimming pool | Tennis Court | Dance Studio | Boardroom | Music Studio | Specific training space | Flexible learning spaces | General classroom | Chapel | Interview room | Parking | Art classroom | Computer Lab | Community Garden | Undercover area | Cross country course | Gallery exhibition space and more…
Backyards | Pools | Fire pits | BBQ areas | Studios | Paddocks | Dams | Nature areas | Consulting room | Home office | Large rooms | Large homes | Private Tennis Courts | Free parking | Sheds and more…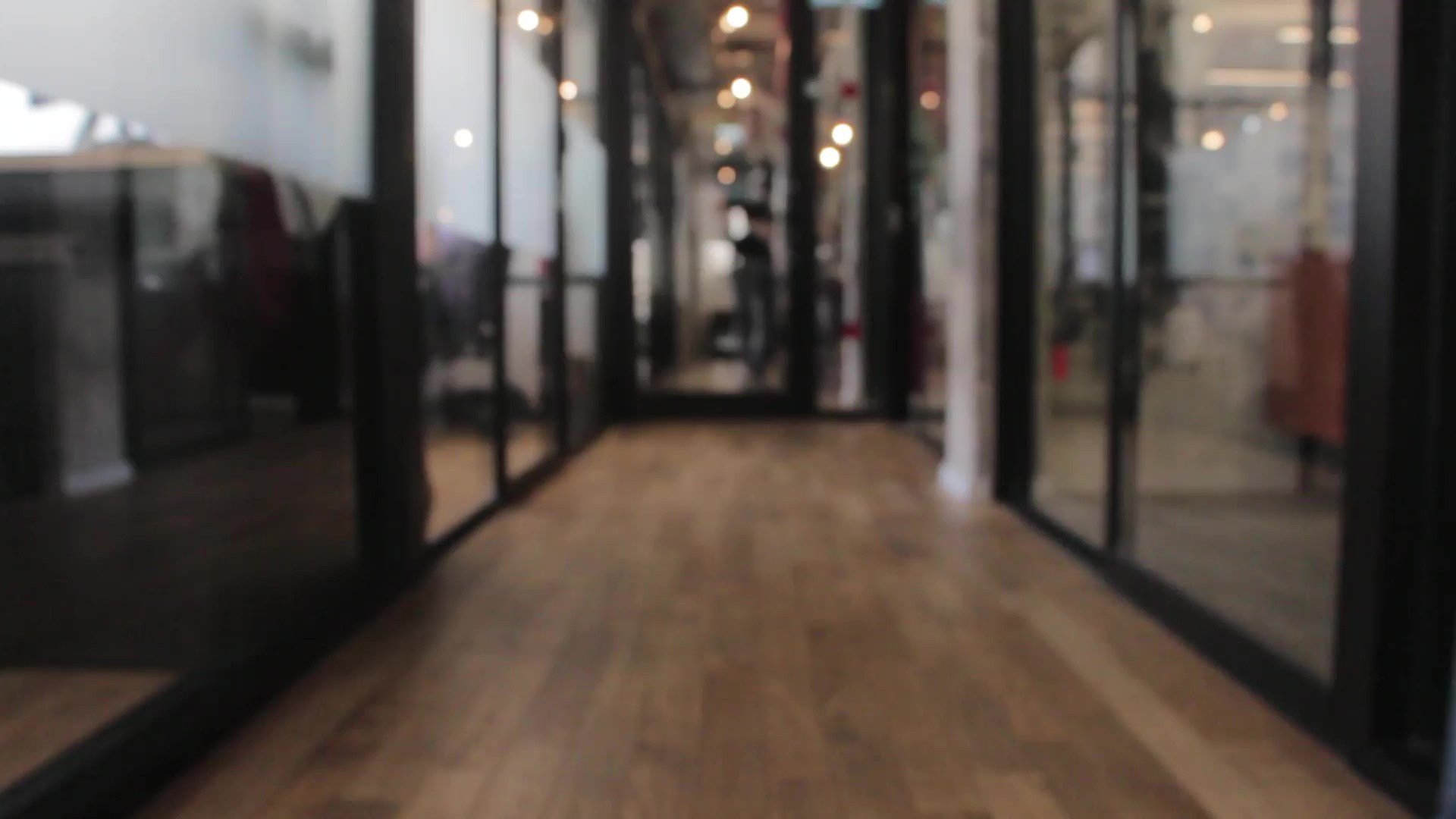 So you have a space and you're keen to share it with others. In this section we'll focus on pointers that lead to space sharing success. There are spaces for all types of activity, be they spaces for work, fitness, the creative arts, cultural ceremonies, meetups, kids birthday parties and more. Some of the more quirky sharing examples we've seen include: flash mob practice, bogan bingo quiz night (as pictured) and even a panel for curly-haired girls (true). So with all this in mind what are the top tips for sharing spaces:
Fit-for-purpose

– be really clear about what your space offers. Can it be used for many activities or is it a specialist, purpose-built room suitable for one or two things. For example, most warehouse spaces can hold nearly any activity. The yoga study with parquetry flooring is likely only suitable for yoga or meditation. It's also important to show off the facilities and accurately put these up front in any written description. Great wifi, high ceilings or a modern kitchenette should all be explained.

Feels

– how a space feels to people is extremely important. If you don't know, ask five people their opinion. If all five say it's musty, damp, cluttered and cold, you should try to fix it with a clean out, better ventilation, air conditioning or maybe even some maintenance. Warm, fresh, clean spaces will win your guests over. You can make a difference to how a space feels with last minute small touches like: fresh filtered water, fresh hand towels, fragrant candles, fresh fruit, flowers or a personalised welcome sign. These things are of course optional and you may do just one of them, but they go a long way with people. Creating a memorable space sharing experience will likely lead to positive reviews, the likelihood of repeat bookings and word-of-mouth sharing.

Fantastic lighting

– following on from the above point, the ability to light up a space to match the activity is important to people. Whether it is natural light, manual lighting or even high-tech lighting, it's good to think about and mention lighting in your space. Often your guest will photograph and share images of your space in action. Good or poor lighting affects these photos and it's something to consider when sharing your spaces with the community.

Fotos, fotos, fotos

– Quality photos of your space help your guests understand and imagine their activity in your space. Whether it's a wedding or workshop space, show off the best features of your space with clear, high resolution images. Most people will be looking for a sense of the floor space, the amenities and the area for seating, standing, dancing, yoga (whichever applies). One tip for enticing photos is to show images of your space in use. That means, have images of people enjoying themselves and with the space dressed up according to the activities it is best suited for.

Fineprint

– the devil is in the detail and so if you do one thing in sharing your space, be extremely clear about your space description. Clear rules about what activities you won't accept are as important as those you want to encourage. Whilst good photos will entice people to hire your space, your guests will want to know as much as they can before hiring so be generous in your descriptions. Being truthful and transparent sets the right expectations with people. It also helps to explain any additional charges that may apply when hiring your space. A helpful tip is to ask a couple of friends to sanity-check your descriptions for understanding.

Fine tooth comb

– in other words, be clean. Anytime we see a negative review for a space it typically comes down to cleanliness. No one wants to spend the first fifteen minutes of their space hire cleaning and wiping down surfaces. If the space is prone to dirt and grime for various reasons, then supply readily available cleaning equipment that is safe to use and clearly understood. Going over your space with a fine tooth comb also means ensuring the bins are emptied, the temperature feels cosy and that weird smells are eliminated.

Financials – how much are you charging for your space and how did you arrive at that figure? As we demonstrated above in the schools example, it is possible to calculate the amount of hours a space is typically used. For a cafe, this is 7am to 3pm (on average)… which is 8 hours. What does the commercial rent work out to be per day for that cafe? Divide the figure by 8 to see what the rent return should be. Some space hosts will also factor in lighting as well as heating/cooling costs. For some spaces this might be $25 per hour… You also need to consider what is fair and reasonable. For many space owners, space sharing represents bonus income. For others, it is the source of income. With all this in mind, try to use space sharing as a way to bring people in. Do this by considering what will be a win for your guests but a bonus for you. The cafe courtyard charging $500 per hour will likely get no bookings. The secret second floor dance studio space for $40 is likely to be very popular and we used by a range of people on a range of budgets.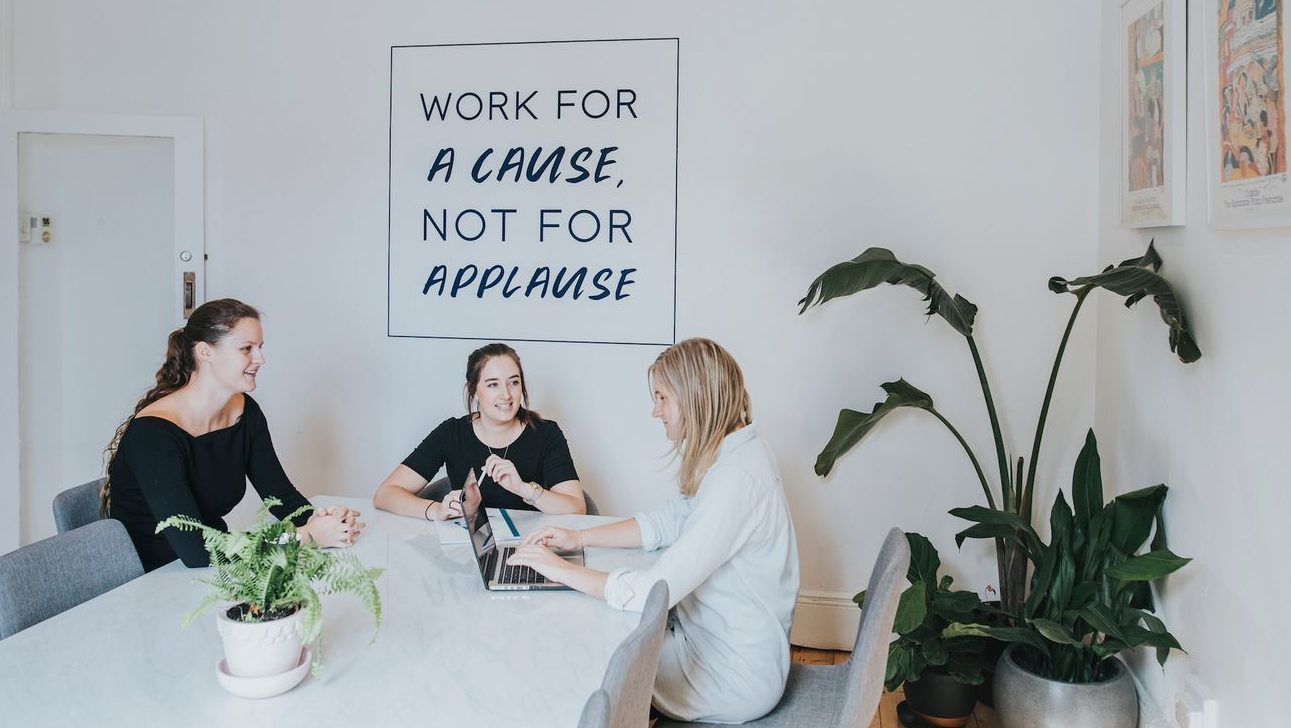 Businesses are interesting places…. in this day and age…
In the olden days (like 1999), it used to be that you found a building, paid rent and your employees worked there from 9-5 every day of the week. It's not like that anymore…
On top of these changes, there is a lot of other disruption that is going on. The only way to survive it, is to figure out how to jump into it and be your version of what that disruption is… for all of us, we simply need to hold on while that good thing lasts. The problem is – and it's an awkward truth – we won't be reaching some kind of plateau where everything will settle down. We are in an exponential disruption loop where change is a constant cattle prod. It used to be you could switch the font on a document in Word and presto, new report…. those days are over. Oat milk is about to disrupt soy milk, people!
But don't despair, there is also hope in the midst of all this change (I'll stop saying disruption now, change is far less alarming). There is a smidge of hope and it lies inside one of those corners of the internet responsible for all this carnage – the sharing economy. So if you're thinking, 'mmmmm…. Maybe we should try a little disrupt change', then read on…
Your space is valuable. When you stop to think about it, businesses make pretty inefficient use of things like boardrooms and pet project spaces e.g. the podcast studio you built and used for 12 months which now sits lonely and unwanted. Also, activity based working (ABW) is so common-place that even Governments are doing it and have been for a while! (Run a Google test on 'activity based working Australia government' and you'll get what I mean). The result of ABW is that employees may not be at their desks 9-5 five days a week. All of which means, your place of enterprise, one of the most expensive elements of your business, is only half used. So what might you do with all that downtime? This is where you can start to think about sharing your spare spaces at work.
When strangers become customers: Let's say your business is an ad agency. The age of disruption has not just shifted the goal posts… it's eaten them and spat out sawdust… Your once local customers now make their own ads on the free version of Canva and distribute them for free on Instagram. Because your agency can't exist off sawdust, you begin to cull some staff (the ones who don't know what Canva is). With the new spare space you've created, you set-up some hot desks and welcome strangers in. Now, for all the talk of "collaboration", it only happens when businesses create opportunities to interact with different people outside of their sphere. For example; the startup using the meeting room for 2 hours, may end up being a future client. The developer hiring your spare desk for $5 per hour might just have great tech advice for your agency. The business coach using the boardroom space for 3 days might be the one who observes a workplace issue unseen by others… meeting people is nice. Meeting people who become future connections and collaborators is even better.
I gotta gig. yes, sure, we know…. everyone is talking about side-hustling and the gig economy. Human beings have always needed spaces and that is even more the case with the increase of startups, gigsters and hustlers. Could your place of business help out pop-up retail? Business consultants? Startups that need a boardroom occasionally? Professional trainers and others? The answer is probably and it may just be a way to keep your landlord happy and/or pay for some other bills… like Instagram advertising (how did that become a thing?)
So there you have it – your business is sitting on a potential goldmine. And it can take part in the sharing economy, very easily. The genuinely nice part is you get to connect with more people, real humans. The spaces that hold our businesses can be used for other things too – all it takes is to seize opportunity while others are busy figuring out what happened since 1999.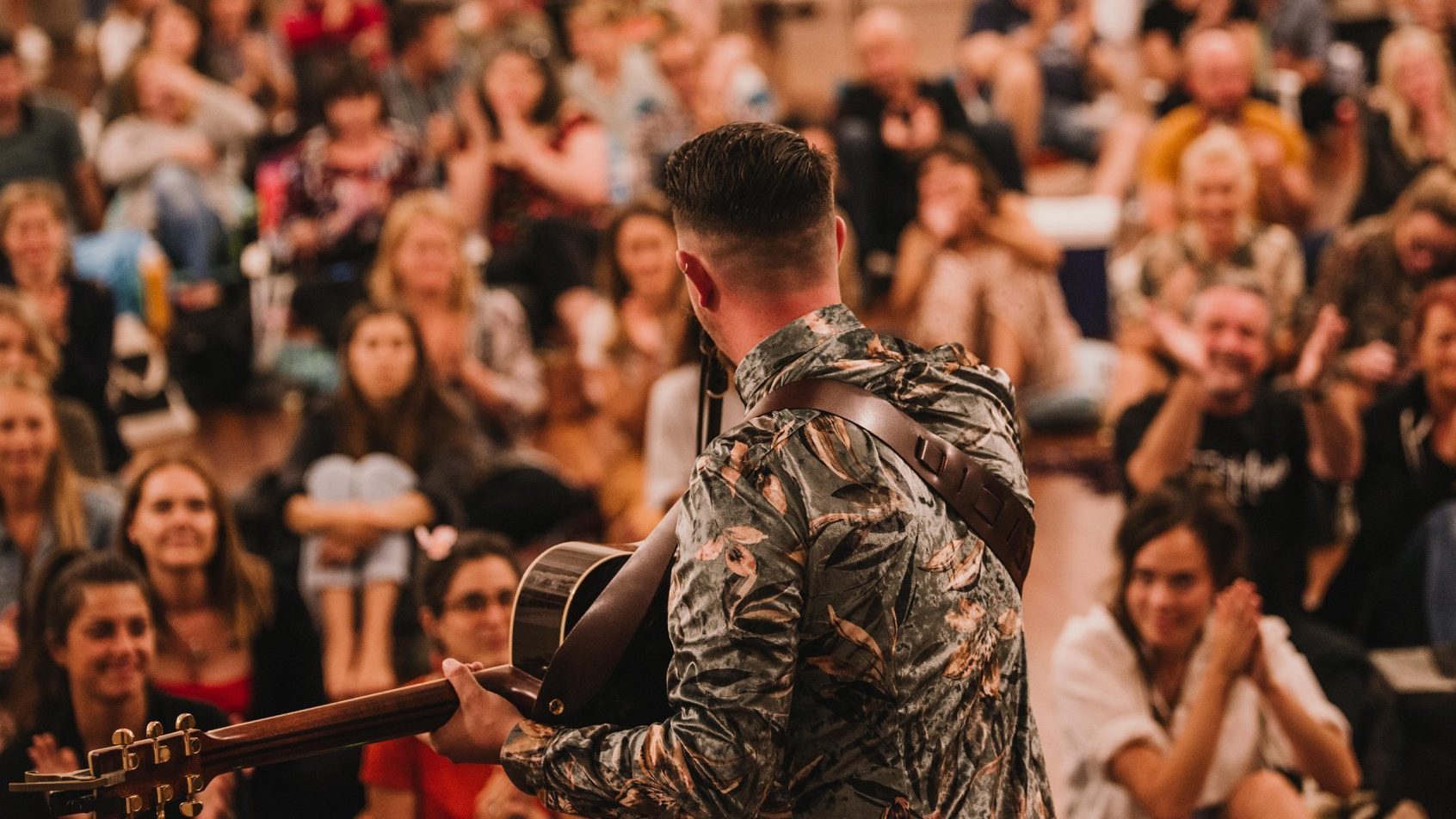 Sharing someone's space comes with the same etiquette you might follow when ride sharing or using Airbnb style accommodation. The sharing economy has a knack of keeping everyone accountable through reviews and more easily enforced payment penalties. If you think about the condition you might leave a hotel room or even a restaurant table, it's somehow different to how you might present yourself in your workplace, at home or at a friend's house.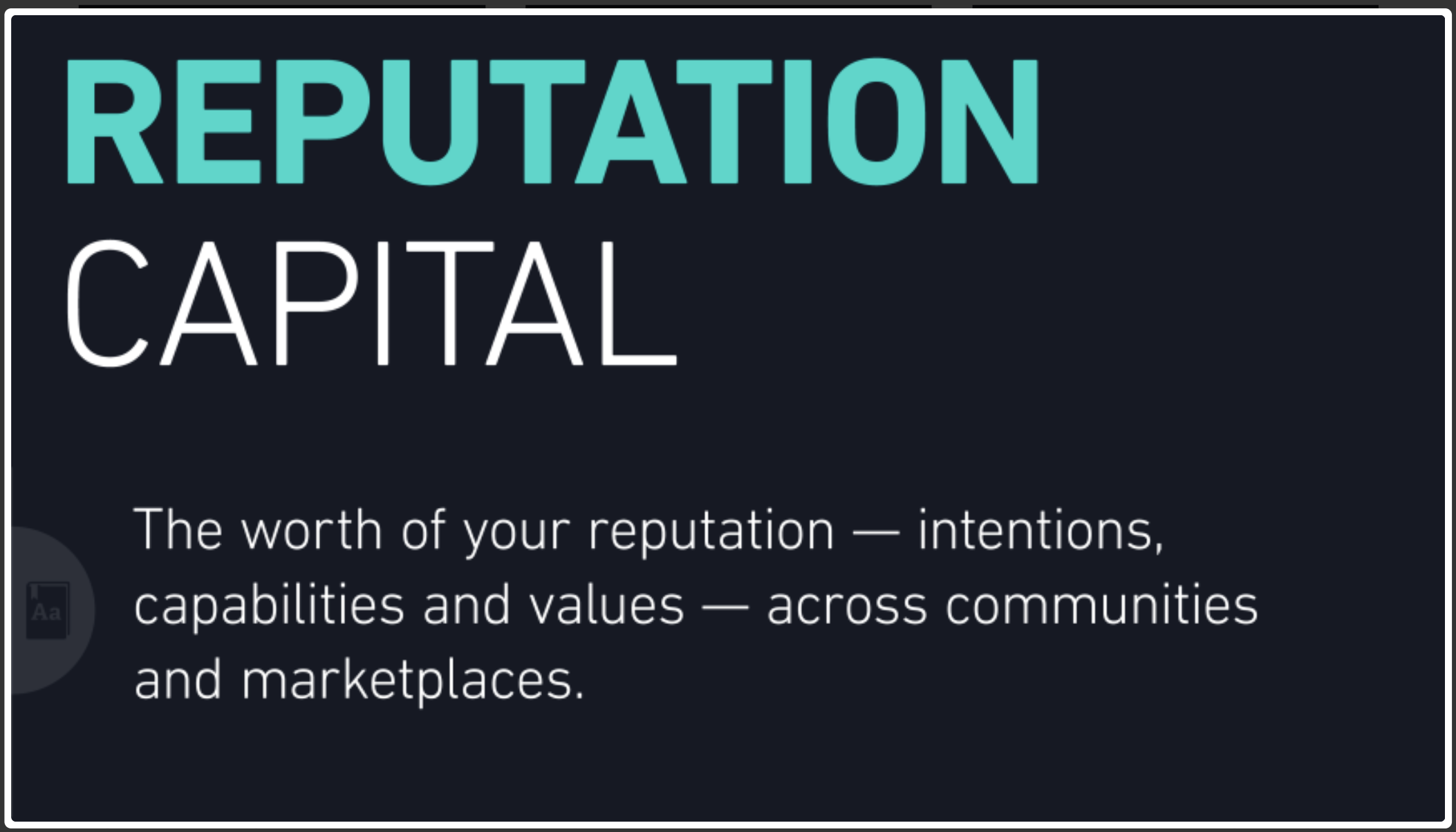 No one has explained this better than Rachel Botsman who speaks about trust and how it slots into the Sharing Economy. Our universal, online reputations are becoming a currency. As the likes of Google appear to aggregate information across platforms, the idea of a digital footprint is not an idea anymore, it is here. Have you noticed that social media reviews are now included in Google search results?
Because Space Sharing is an online activity, the way we conduct ourselves is leaving a trail of digital breadcrumbs. With that in mind, we bring you some timely tips for being a great Guest in someone's space:
Communication before, during and after. Our digital assistants, be it Google or Apple are embedded into our lives through handy notifications. They impact us all on an hourly basis. These timely reminders are having another effect though – they're altering the perception we all have about efficiency and communication. Good communication has always been valued, but now it is expected. An example of this is how letter writing used to be a game of patience that involved plenty of wait-time between correspondence. It's not like that anymore. We have a war-chest of messaging tools that can help you stay in touch with others. Our tip here is to use these tools and be communicative.
Before

: What are using the space for? Is this clear? How many people will be coming? Is there food at your event? Have you checked in beforehand, even if it's to say that everything is going well and you're looking forward to sharing the Host's space?

During

: Have you let the Host know that everything is going well? Are you frustrated about something, have you communicated this?

After

: How did it all go? Did the Host do something you appreciated? Does the Host need to be made aware of an important detail for next time?
Respect the rules and follow them. Trust is built by doing what you say you will do. If the Host has set down clear rules about food, smoking, volume, parking etc… you need to respect these. Rules are not guidelines or suggestions, and whilst they are not also the law, breaking someones rules will come back to bite your digital reputation and your ability to book the space again.
"Reputation is becoming a currency that will be more

powerful than our credit history in the 21st Century"
Give feedback
Reviews and feedback have become almost a required courtesy in the sharing economy. The central pillar of trust is built off the back of user reviews. Reviews help Hosts improve and they let future space hirers be better informed when it comes to deciding between spaces to hire. It is almost your duty to give feedback that is clear, fair and accurate. There is no need to nit-pick and there is no need for personal attacks. Objective and professional feedback makes you a great contributor to the space sharing marketplace.
Receive feedback
Feedback might be positive or constructive. Sometimes it can be hard to hear, but it's important to be receptive to it. The Host may be under the impression that you broke one of their rules, outstayed your welcome or were attempting to hide some damage. By receiving feedback you get to learn if it was a misunderstanding or misinterpretation. By being communicative during and after your space hire, you can give yourself the best chance to get ahead of all feedback.
Be approachable
By working on being communicative and giving/receiving feedback, it's natural that your Host will find you approachable and enjoy having you in their space. There is another secret to being approachable and that is by smiling. Neuroscience research tells us that smiling is contagious and naturally puts others at ease. Remember that in the sharing economy, your reputation is like currency so remember to be approachable and smile.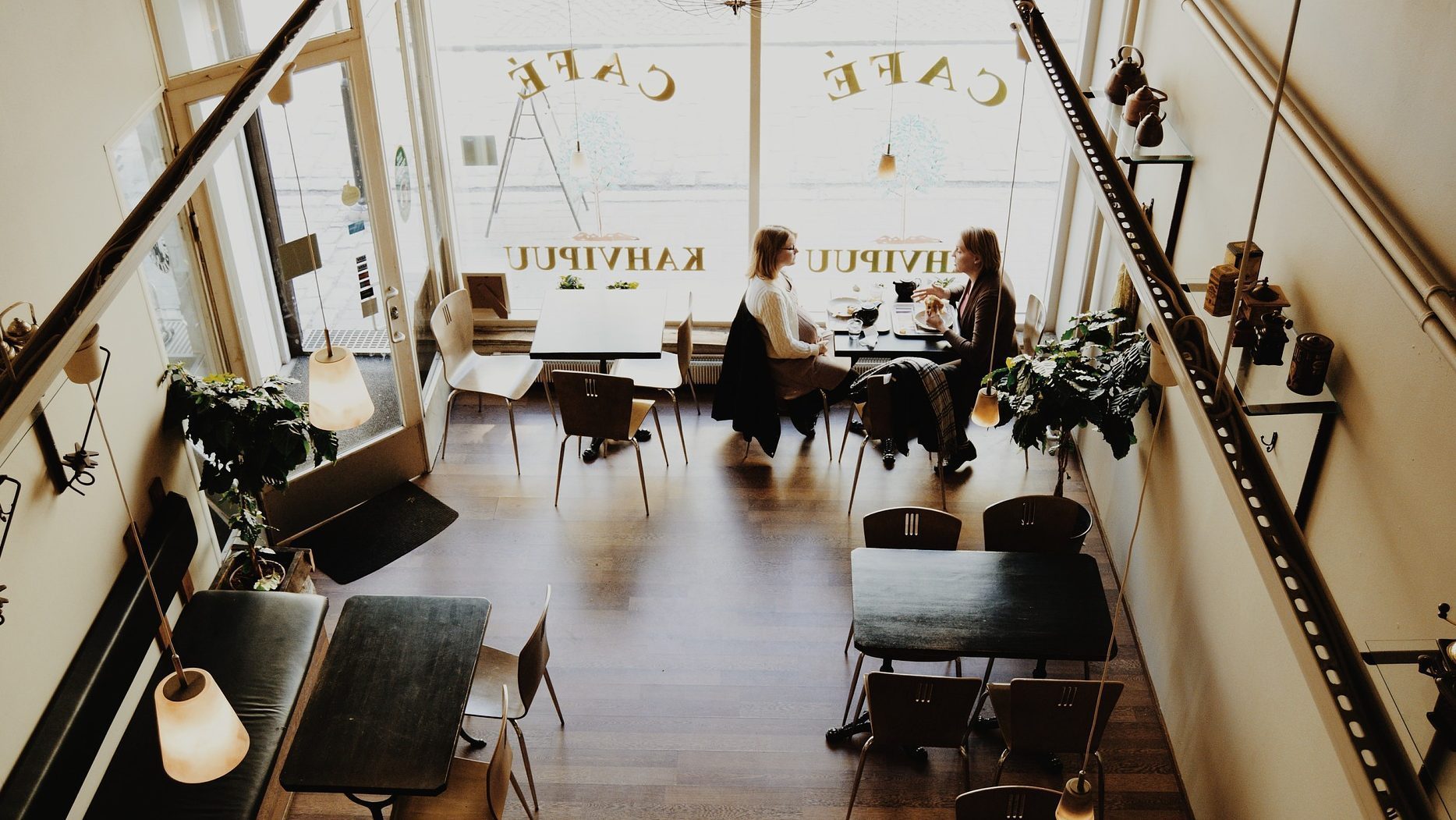 When the mind opens up to the possibilities of Space Sharing – you realise there is an almost unlimited opportunity to make better use of the built spaces we have in our communities. As explained above, the benefits are many. Interaction is built on simple etiquette and commonsense. But what about the types of spaces? We think there are 4 main categories:
Civic building space i.e. Local Government

Non-commercial spaces i.e. Schools, churches etc…

Commercial spaces i.e. cafes, shops, businesses

Residential spaces
A comment on security:
When you look at the list above, your mind might turn to security concerns and suddenly space sharing or engaging with the community can seem risky. Every space has a lock on it and for good reason. Concerns about theft, anti-social behaviour and controlling how a space is used are all valid reasons for security. However space sharing is more enabled than ever thanks to the sharing economy. Two-way public reviews, secure transactions and identity verification tools are still relatively new in society… in this sense, technology is actually enabling humanity in ways we had thought were over. By that, we mean that the connectedness humans had in times of smaller populations in smaller cities came with community benefits that seem to have been lost over the 20th century.
So, when you remind yourself that security is under control and largely a non-issue, then the possibilities and the benefits of space sharing can be realised. Here's a brainstorm of spaces that might once have been built for one group in mind, but which can serve a far larger audience of people: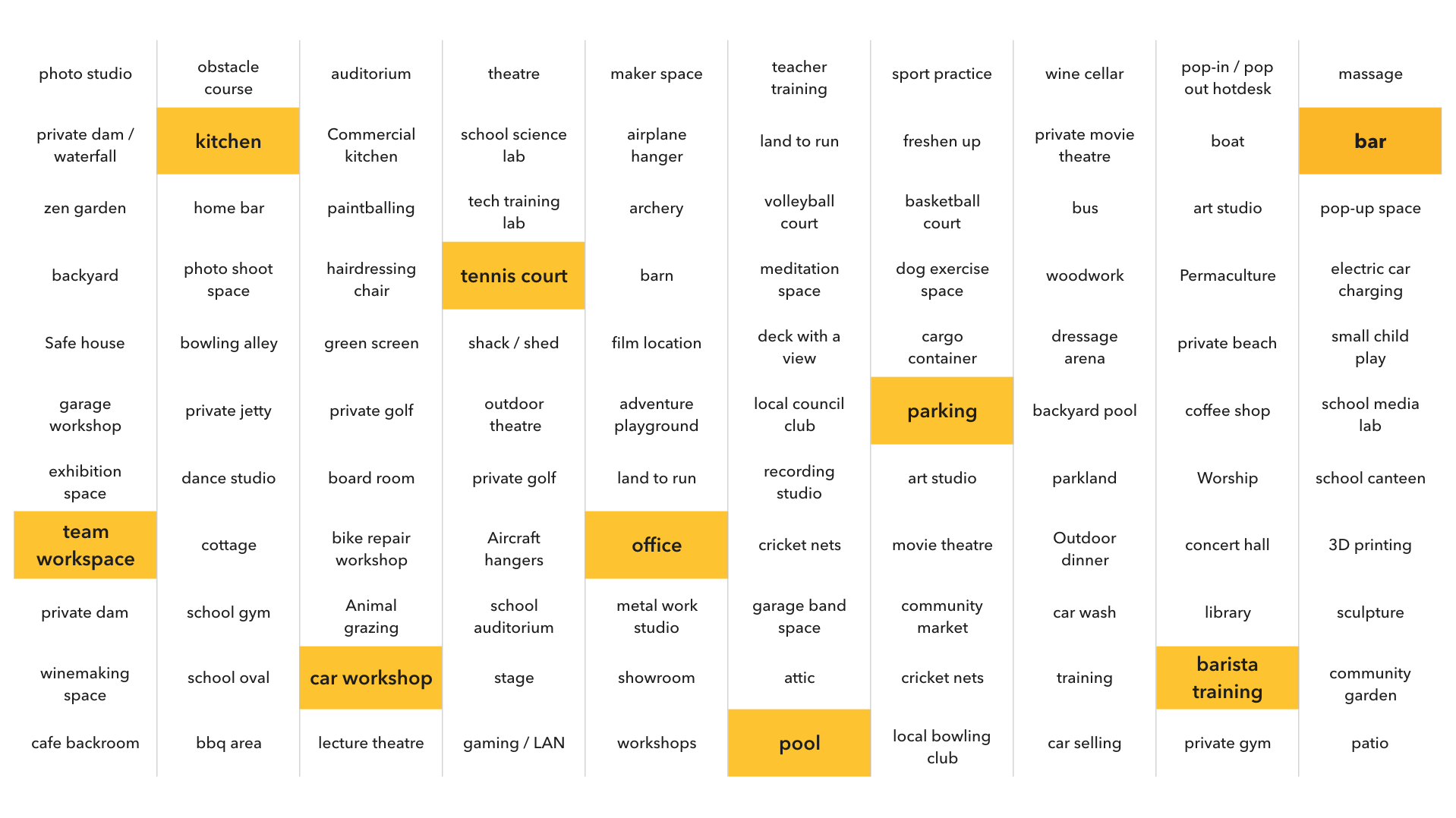 Civic building space i.e. Local Government:
Councils and shires hold the keys to some modern and historic civic spaces. These are made up of: town halls, community halls, lessor halls, leisure centre resources, libraries, community centres, playgroup spaces, parks, sporting reserves, gazebos, beach property, nature reserves, lakes, sporting pavilions, function spaces, training rooms and more…
Non-commercial spaces i.e. Schools, churches etc…
Most schools and churches are centrally located in the heart of the community – and they have an abundance of useful Spaces that can be hired out. For example: Oval Space, Playground equipment, Church Hall, Auditorium, Basketball Court, Maker Space, Canteen/Cafe/kitchen, Theatre, worship, Library, Gymnasium, Swimming pool, Tennis Court, youth facilities, Dance Studio, Boardroom, Music Studio, Specific training space, Flexible learning space, General classroom, Church/Chapel, Interview room, Parking, Art classroom, Computer Lab, Community Garden, Undercover area, Gallery exhibition space, meeting spaces and more!
>Read about how St Luke's church in Remuera benefitted by opening up their spaces to online bookings
Commercial spaces i.e. cafes, shops, businesses
Throughout our cities and towns are many hidden and unused spaces – most of which sit idle. Imagine what we could achieve if we opened these spaces for greater collaboration… Useful spaces are situated in a variety of buildings, including: cafes, bookstores, yoga / pilates studios, boardrooms, office desks, event spaces, commercial kitchens, galleries, halls, gazebos, courtyard gardens and more.
Residential spaces
The sharing of homes for accommodation purposes has undergone a revolution in the past decade. When we look at Space Sharing there is an abundance of useful spaces to be shared that include: sheds, pools, tennis courts, gardens, studios, meeting spaces, home offices, play spaces, BBQ and outdoor entertainment areas, firepits, artist workshops, mechanic workshop, table tennis, home gym and more.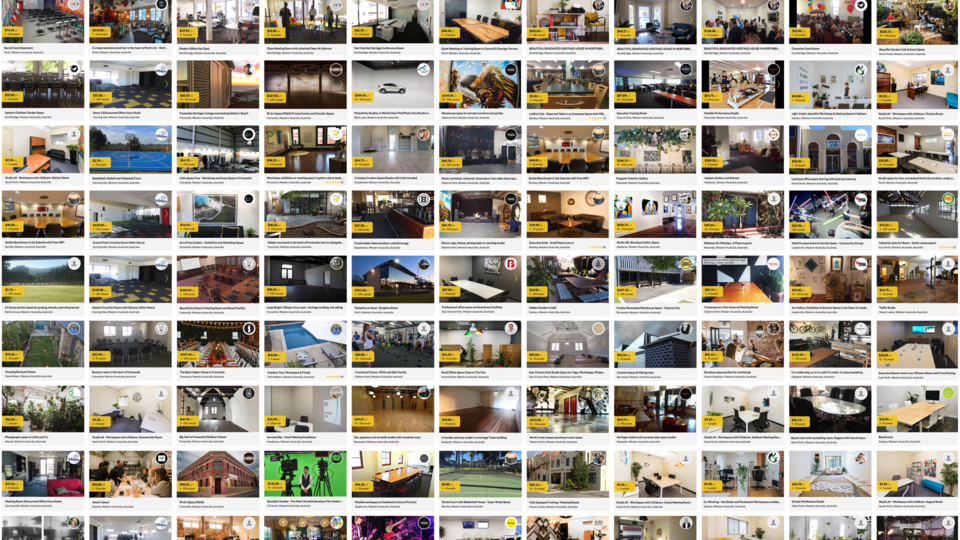 The purpose of a space should match the activity that happens there, but no longer do we need to accept that one group only should benefit. All spaces have downtimes and by opening your mind to Space Sharing, we can encourage a more sustainable world.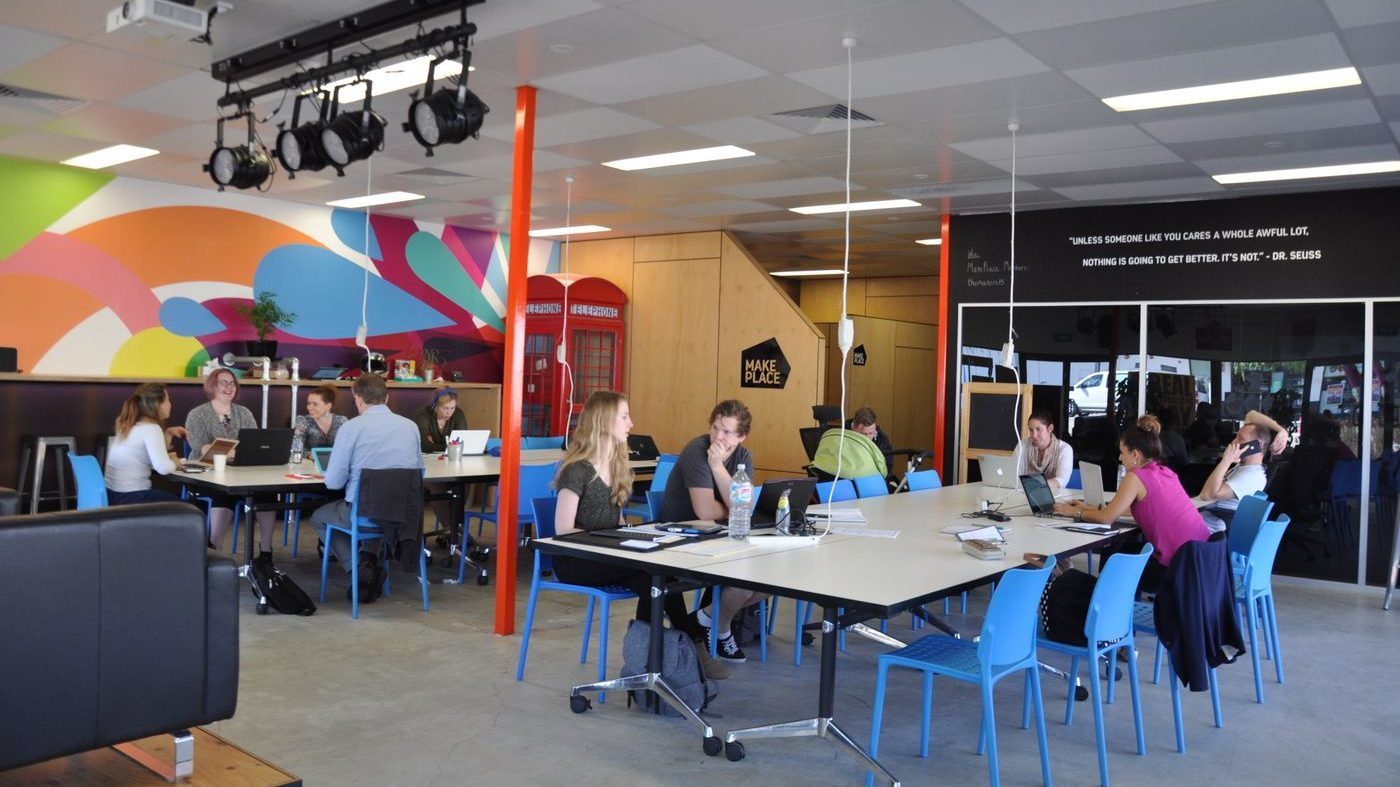 Space is pretty much essential to us humans. It seemed to be that in our past, spaces were shared pretty effectively. Any visit to an ancient city ruin shows this well. But that was easy when we had populations of tens of thousands. Now we have cars, suburbia and populations of millions. We do like to share our freeways in the mornings and afternoons, but we're not together… we're separated by the glass and metal that makes up our cars. Now, instead of the village, we talk of society… even though we often hear of that yearning to 'bring the village back' and 'make the city more vibrant'. How do we create more " village" in our sprawled cities amongst the millions of us? Why do we build more and more, when it's likely that we might have more than enough physical space…. Are we just terrible at sharing it… or knowing where it is.
We love the idea of space and it shows in the urban sprawl that shows little sign of slowing down. Can we get better access to space and reduce city sprawl at the same time? It is possible. Where suburbia lives – we have silo'd our lives quite a lot. Fences, garage doors, alarm systems, fear of germs, stranger danger and car culture have closed us off from each other. And the internet doesn't exactly help. We know it, acknowledge it… and accept it.
But this story isn't all bad…There is change in the air and tech has been enabling the solution. According to Canstar, 68% of Australians now spend and earn money through the sharing economy. If you're thinking this translates to Airbnb and Uber, it likely does, but it's extending now to other things like Airtasker and Mad Paws. Aside from convenience and value for money, all these sharing economy models have one thing in common – they connect people. A recent Bankwest Curtin Economics Centre report last month highlighted the recent increase in WA Airbnb listings, which is up 50% in WA over the past year… People in WA are keen to connect – and they're making some spare cash in the process.
Imagine then if there was a sharing economy for spaces? We could connect spaces to people and people to spaces. What would that mean in our cities of millions? If everyone shared spaces, could it mean less commuting on our freeways and less traffic congestion? Could it mean that normally deserted buildings, rooms, studios….etc are used more often? Could it challenge and disrupt certain industries? Could it turn the idea of a city centre on its head? Could it mean less landlords and more money for local area economies? Most importantly, could it allow more people to connect and experience more village again?
Our suburbs are mostly silent during business hours… and outside of these hours where the tall buildings rise… also quiet… doesn't it seem like we could do this better? The great thing about living in this age is our work can happen anywhere… armed with a laptop and reasonable internet access, it's never been easier to conduct our business. People don't need the CBD like they once did. The thing is, some days all you need a quiet room, other days you need a meeting space and from time-to-time, a training venue. Few workplaces offer all of these things and neither does the local cafe… unless it offers decent work spaces. By sharing more, we get to live in ways that past generations could have only imagined given our growing population. Sharing really is the way forward for all of us.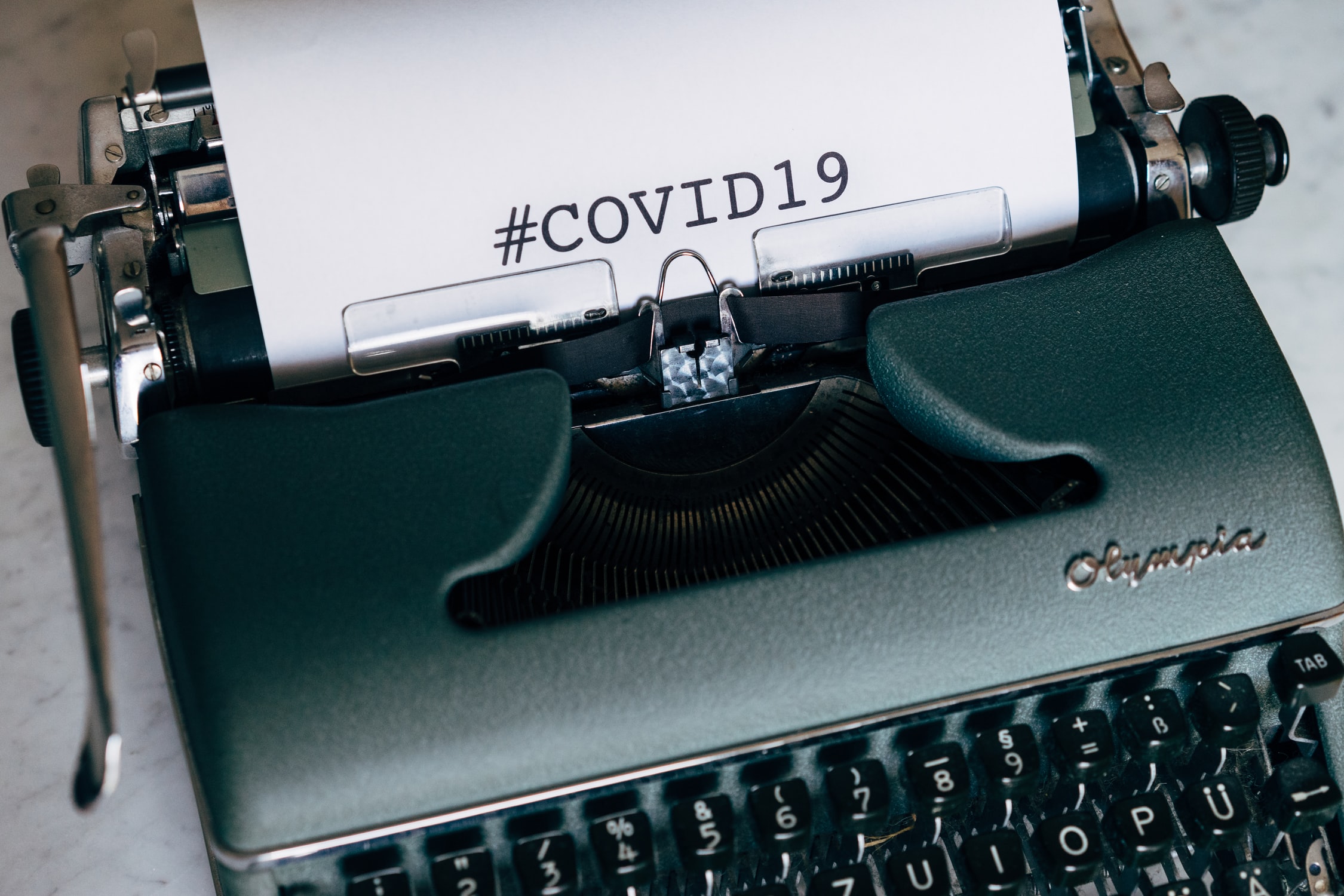 *************
Caveat: This article was originally written in June 2020 prior to the second wave of COVID-19 in Melbourne, Victoria. We acknowledge COVID-19 is an ever-changing situation and we advocate for the health and well-being of all ahead of space sharing.
*************
In Western Australia and New Zealand we have witnessed green shoots of recovery from Corona lockdown. Whether you ❤️ a good lockdown or it was starting to drive you 😜, there are signs of life…. yay! Businesses are emerging from their hibernation, students in most regions are back at school and the increase in people getting outdoors and walking, jogging, cycling etc is well, kinda catchy.
For the most part, our communities are complying with the easing of lockdown. However, hand sanitation, social distancing, travel restrictions, limits on people gathering, a COVID app and more are in place and probably for a while. With all this in mind, what is the future of sharing spaces?
NB: Before we crack on – we have no idea what the future holds, but we have some reasonable hunches based on the past few years of experiences in space sharing.
What we learned from Lockdown:
It wasn't always easy… was it? Households resembled well-oiled-functioning units one minute and less-than-perfect scenes the next. Parents were getting desperate and collectively wondering, 'how the hell do the teachers do this!' The 'Great Pause' upended the routines of family focus and threw an attention grenade at anything work-related. Jumping between video calls is all good & well except when there are demands for food, tears of frustration, noise (so. much. noise) and stuff getting broken. Despite this, there are undoubtedly many very positive outcomes from lockdown too.
Think back to life pre-Coronavirus. Your alarm goes off, you get up, put on your work clothes, make yourself look respectable, make the kids lunches, grab some breakfast, glance at some emails, and leave the house… your attention likely soaked up with the day ahead. You drop the kids off and head to your first meeting for the day. Then you grab a coffee and for the large part – all is good. You're living the dream… possibly. You're in the moment… possibly. Did you give more than a cursory thought to your home, your partner, your pet, your garden, the food you ate… ? Coronavirus applied the brakes to 'normal' life and we were suddenly forced to be a lot more present. Did you notice a new-found appreciation for your home? Life in this country? Your health? Toilet paper?
The lockdown made us slow down. We walked more, baked more, talked more, hung-out more, cycled more…. There was more, 'more'
"Do I want to go back to "normal"?
We all thought it…
Decentralisation:
Space Sharing at its core has always done a wonderful job of distributing people. In a post-COVID world this is a good and necessary thing. Take for example a high rise building of 2000 people in the CBD. The use of the lift, kitchen and toilets present several logistical problems when it comes to social distancing. It could be lunchtime before you funnel everyone through the lifts to their desk… then there is leaving for lunch… So working from home is going to kick-on as the new modus operandi. Twitter's #LoveWhereverYouWork is a sign of the times. Except there are times where your home office is not going to cut it on several fronts. This is where occasional space sharing can supplement and complement WFH work brilliantly. Need a recording studio, a space for a small meeting, a consulting room, a board table, a green screen…. you can access resources like these and more that you don't have at home. Source what you need, when you need it close-by.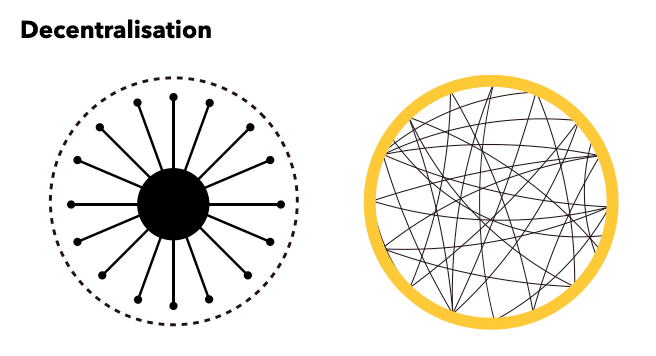 But wait, is there more to this? There is a general sense that confidence in public transport has taken a nosedive. When there has been a pandemic, few of us want to risk the train and bus. The result of this concern is another problem – more cars on the road and therefore more congestion. WFH and hiring the occasional space suddenly makes a whole lot of sense, at least for the short-term. Our cities are built on a hub and spoke design – so does sharing spaces across all areas of our cities mean we can ditch A-to-B for an A-to-Anywhere mindset? Maybe this is the way we should always have operated…. Added to all this is the effect of our centralised model on the cost of CBD rent. It is without a doubt, the single biggest overhead for businesses. Commercial rents have been taking a hit for some time, especially as co-working and other disruptive models challenged the status quo. The mobile workforce was already increasing rapidly before COVID. Perhaps WFH and flexibly mobile will be the way all of us work.
We need to connect
Coronavirus has placed a spotlight on human connection. How we connect now comes with some trade-offs. Handshakes, remember those? With large gatherings off-limits for the time being, there are still some ways we can gather. The beach, park and hiking trail are great places to hang out with small groups. But when it's work, a formal celebration or to run a class, then you need to access a space within the limitations of social distancing. Space sharing provides us this option in a carefully controlled and distributed way.
Lockdown taught us that human connection emerges no matter what the circumstances. Driveway drinks, video call quiz nights, online concerts, ANZAC day via the driveway and many more examples displayed the magic of the human need to connect. Who will ever forget Italians singing to one another between apartment buildings. The human spirit and our need to connect with each other is who we are – nothing changes that.
Space Sharing in a post-COVID world is a thing – it's just going to look a little different and very possibly it will activate more life into our suburban communities 9 to 5, Monday to Friday like we've never seen before.
We've been through many extremes in 2020 and it's highly likely the ripples of change will continue across the globe. All in all though, we're betting that decentralisation will allow us to do what people do best – connect, collaborate and co-create as we re-build community.